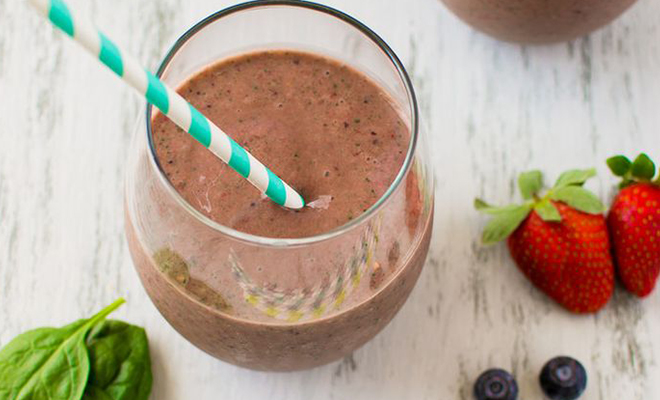 littlespicejar.com
Health & Fitness
Hair Health: 3 Recipes for Chocolate Lovers
|
Typically chocolate is categorized as a sweet indulgence, reserved for special occasions, however it's so delicious and delectable that it's easy to go overboard, and it can be hard to just have one or two bites. Binging on such a tasty treats can certainly make a girl apprehensive and nervous, suddenly recalling all the warnings of our mothers, "Eat too much chocolate, and prepare fore acne, thunder thighs, and you teeth rotting out!"
If you are like me, the initial chocolicious euphoria is as short and sweet as a mini Kit Kat bar, as I begin counting down the minutes until how my sugary snack will somehow resurface to bite me in the tush, or rather, pack on another few pounds to it. Lately, my chocolate anxiety has melted away after reading that more nutritionists are discovering the positive health benefits to consuming chocolate, as dark chocolate is actually rich in beneficial antioxidants. Kristin Kirkpartick, R.D., M.S., and Wellness Manager of the Cleveland Clinic's Lifestyle has stated that, "Cocoa contains naturally occurring plant substances called flavonoids that help keep platelets less sticky, decreasing your risk for heart attack or stroke from a clot." Dark chocolate is not only great for the heart, but it can also lower blood pressure, reduce stress hormones, and even fights against wrinkles and preserves your skin's healthy glow, as the flavonol antioxidant also protects against UV damage.
So, yes—chocolate is still relatively high in fat and calories, I'm not going to deny that, but it also has the abilities to work wonders on your overall health; the darker the chocolate, the healthier it is for you. Like any other food, it's really about finding balance, maintaining moderation in the rest of your diet, and how your choice chocolate delight is prepared. Indulge your sweet tooth with zero guilt, with these 3 yummy recipes, and embrace the chocoholic you are!
Skinny High Protein Oreo Milkshake
Ingredients:(Serves 2)
250 grams fat-free cottage cheese (low sodium/no salt) OR skim ricotta
1 cup skim milk
3 Oreo cookies
1 teaspoon truvia
1 teaspoon vanilla extract
Directions:
Blend salt free Cottage Cheese (or the Skim Ricotta, if you are substituting).
Add the rest of ingredients to the blender.
If a thinner texture is desired, add more milk. Do note that the drink does thicken significantly in the fridge.
Chill mixture for about 1 hour.
Serve and Enjoy!
Black Forrest Trifle
*Note: This is also a diabetic friendly treat!
Ingredients:(Serves 12)
1 (8-ounce) package chocolate sugar-free, low-fat cake mix (such as Sweet 'N Low)
3/4 cup water
1 (1-ounce) package chocolate sugar-free, fat-free instant pudding mix
2 cups fat-free milk
1 (16-ounce) package frozen no-sugar-added pitted cherries
2 or 3 drops of red food coloring
2 cups fat-free frozen whipped topping, thawed
Sugar-free chocolate curls (optional)
Directions:
Preheat oven to 375°.
Prepare cake mix according to package directions, using 3/4 cup water. Let cake cool in pan; remove from pan, and cut into cubes.
Prepare pudding mix according to package directions, using 2 cups fat-free milk; chill at least 30 minutes.
Thaw cherries, reserving 1/4 cup juice. Combine cherries, juice, and food coloring.
Place half of cake cubes in a 3-quart trifle bowl. Spoon half of cherries over cake; spread 1 cup pudding over cherries, and top with half of whipped topping. Repeat layers. Garnish with chocolate curls, if desired (chocolate curls not included in analysis). Cover and chill at least 8 hours.
Serve and Enjoy!
Brownies with Butterscotch Drizzle
Ingredients: (Makes 16 Brownies)
Nonstick cooking spray
4 tablespoons (1/2 stick) unsalted butter
2 ounces unsweetened chocolate, chopped
1/4 cup low-fat sour cream
1/2 cup granulated sugar
1/2 cup light brown sugar
2 large eggs
1 tablespoon vanilla extract
1/2 cup whole-wheat flour
1/4 teaspoon salt
1/2 cup bittersweet chocolate chunks or chips
1/2 cup butterscotch chips
2 teaspoons 1% low-fat milk
Directions:
Preheat oven to 325°. Lightly coat an 8-inch baking pan with cooking spray.
Melt butter with chocolate in a medium saucepan over low heat. Remove pan from heat, and stir in sour cream, sugars, eggs, and vanilla until well-combined. Stir in flour, salt, and chocolate chips.
Pour batter into prepared pan; bake in middle of oven until a toothpick comes out clean (about 35 minutes).
Cool brownies in a pan; cut into 16 squares. Melt butterscotch chips in a small pan over low heat, stirring (about 4 minutes). Add milk, and whisk until smooth. Pour butterscotch into a ziptop plastic bag; snip end off one of the bottom corners. Stack brownies (2-4 in each stack); drizzle each stack with butterscotch
5. Serve and Enjoy!