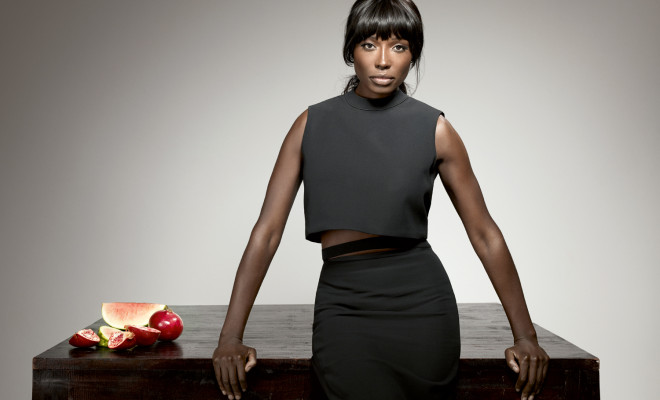 standard.co.uk
Lifestyle
3 Great Recipes by Model Turned Celebrity Chef, Lorraine Pascale
|
In honor of the release of Miko Branch's latest memoir and business guide, Miss Jessie's: Creating a Successful Business from Scratch, Naturally, we at Miss Jessie's hasve made a point to celebrate ambitious women who have also cultivated their own paths to professional success and ultimately personal happiness, from scratch. We know that every great idea starts with a dream, and while the pursuit of that dream may not always be a cut and dry path, that moment of realization when you can say to yourself, "This is what I am meant to do, and I'm going to make it happen,"  is a huge turning point in everyone's lives.
High fashion model turned expert baker and chef, Lorraine Pascale, has had a roller coaster ride of a career, composed of moments of success and soul searching. At age 16, London born Lorraine Pascale was discovered by the same modeling agent, who helped forged the successful careers of supermodels, such as Naomi Campbell. Lorraine was a highly in demand "It Girl" during the 1990s, and was even recognized as the first ever Black British model featured on the cover of Elle magazine. However, ever the savvy, cunning, business oriented woman, Lorraine was well aware of the fact that the average model's time in the spotlight is limited; beauty eventually fades, but intelligence if forever. Having a valuable skill set lasts a lifetime, and with this in mind, Lorraine took to exploring a number of alternative careers, including hypnosis and even car mechanics. She eventually found her niche in cooking, while studying at Leith's School of Food and Wine, and later the Culinary Arts at Thames Valley University. She eventually opened her own bakery, called Ella's Bake Shop, in the Covent Garden district, in London. She has also participated on a judge for the Food Network's Holiday Baking Championship and the Spring Baking Championship. Currently, Lorraine Pascale is a best selling cookbook author, and also stars on the Cooking Channel's Fast, Fresh, and Easy.
In a nutshell, Lorraine Pascale's determination, cunning, and excellent taste led her to her life's calling. If you are a curlista still in active pursuit of making your own dreams of success into an actual reality, know that with enough focus and determination, you too can make it happen for yourself. However, we know constantly being on your grind can get exhausting, leaving you famished! As you carve out your own lane, fill up on some original recipes, by the amazing Lorraine Pascale.
Lorraine Pascale's Mini Quiche Lorraine

*source: youtube.com, Jaime Oliver's FoodTube
For more on this Recipe: Lorraine Pascale's Mini Quiche Lorraine
Recipe courtesy of Lorraine Pascale
Lorraine Pascale's "I Can't Believe You Made That" Cake
Ingredients
(Serves 10-12)
Vegetable oil or oil spray
1 3/4 sticks (7oz/200g) butter, softened
1 cup (7oz/200g) superfine sugar
4 eggs
1/2 cup (2 1/2oz/60g) all-purpose flour
2/3 cup (4 1/2oz/120g) cake flour
2/3 cup (75g/3oz) unsweetened cocoa
Pinch of salt
2 tsp baking powder
14oz (400g) dark, milk, or white chocolate cigarillos (75 to 80 in total) or chocolate rolled wafers
For the Buttercream:
2 1/4 sticks (9oz/250g) butter, softened
4 1/2 cups (1lb 2oz/500g ) confectioners' sugar
3 1/2 oz (100g) good dark chocolate (at least 70-percent cocoa solids), melted and slightly cooled
For the Decoration (Optional):
Strawberries, raspberries, or figs (quartered)
Fresh flowers, for a Christening cake
Special equipment:
8in (20cm) round deep cake pan
Directions
Preheat the oven to 350 degrees F (180 degrees C). Line the cake pan with parchment paper and brush or spray with oil.
Cream together the butter and sugar in a large bowl until they begin to go pale. Add half the eggs and the all-purpose flour and mix well. Add the rest of the eggs, cake flour, unsweetened cocoa, salt, and baking powder and beat for a minute or two until the mixture is uniform. Dollop into the prepared pan and bake in the oven for 30 to 40 minutes, or until a skewer inserted in the middle comes out clean. Let cool in the pan.
Meanwhile, make the buttercream. Put the butter and confectioners' sugar in a bowl and whisk together until the mixture begins to go fluffy. Add the cooled melted chocolate and whisk for a further 2 minutes.
Once the cake is completely cool, remove from the pan. Carefully cut the top flat with a large serrated knife. (Eat this bit as a chef's perk.) Turn the cake upside down on an 8in (20cm) cake board so that the bottom now becomes a nice flat top. Split the cake horizontally and sandwich the top and bottom together with a 1/2in (1cm) layer of buttercream. Spread half the remaining buttercreamall over the top and sides of the cake, making it as smooth as possible. Put it in the refrigerator to set before doing another layer. This makes it much easier to get good squared-off edges.
Gently push the cigarillos or wafers vertically onto the sides of the cake, positioning them as straight as possible and making sure they touch the bottom. The next step is up to you. I can't tell you the wide-eyed looks you'll get when you walk into the room holding the finished cake. Decorate with fresh flowers for a Christening or wedding, strawberries for a big family gathering, or with figs for a man's birthday. Serve with a self-satisfied grin.
For more on this Recipe: Lorraine Pascale's "I Can't Believe You Made That" Cake
Recipe courtesy of Lorraine Pascale
Lorraine Pascale's Cookies and Cream Fudge Brownies
Ingredients
(Makes about 16 brownies)
11 3/4 tbsp (5 1/2 oz/165g butter), plus extra for greasing
7 squares (7oz/200g dark chocolate), grated or finely chopped
3 eggs
2 egg yolks
Seeds of 1 vanilla bean or 2 tsp vanilla extract
Generous 3/4 cup (5 1/2 oz/165g) soft light brown sugar, solidly packed
2 tbsp all-purpose flour
1 tbsp unsweetened cocoa
Pinch of salt
5oz (154g) package of Oreo cookies (about 13 cookies), broken into quarters
Confectioners' sugar, for dusting
Special equipment:
Directions
Preheat the oven to 350 degrees F (180 degrees C) with the middle shelf ready. Grease the baking pan, then line with parchment paper with the paper overlapping the sides a little.
Melt the butter in a pan over medium heat. When the butter has melted, remove the pan from the heat and add the grated chocolate. Let stand for a few minutes until the chocolate goes soft, then stir together. Alternatively, you can put the chocolate and butter in bowl and melt in the microwave in 25-second blasts, stirring well each time.
Whisk the eggs, egg yolks, and vanilla together in a large bowl until they begin to get light and fluffy. Add the sugar in two additions, whisking between each. Pour it around the side of the egg mix so as not to knock out the air that has been whisked in to it. Keep whisking until the mixture becomes stiffer. Once the egg mixture is ready, pour the chocolate into it, again around the sides so as not to knock the air out.
Sift the cocoa into a large bowl and add the flour, salt, and a third of the Oreos. Stir until fully combined, then pour the mixture into the prepared pan. Scatter the remaining Oreos over the top, pressing them in slightly. Bake in the oven for 25 to 30 minutes. The middle should be very so slightly gooey.
Let the brownies cool in the pan. The top will sink and crack a little. Pull the brownies out using the overlapping paper and cut the brownies into squares. Dust with confectioners' sugar.
Cook's Note: Substitute Oreos for toasted walnuts or pecans or sprinkle the brownies with honeycomb.
For more on this Recipe: Lorraine Pascale's Cookies and Cream Fudge Brownies
Recipe courtesy of Lorraine Pascale and cookingchanneltv.com
Happy munching curly queens!
Sources: 1 | 2 | 3 | 4 | 5 | 6 | 7 | 8
All images sourced via pinterest