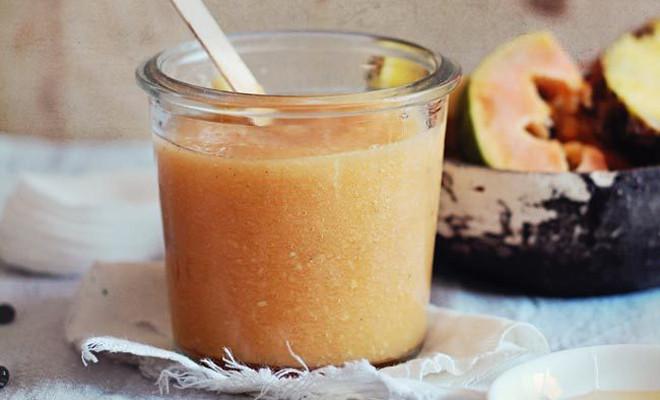 hellonatural.co
Beauty
Weekend Spa: 5 DIY Face Mask You Should Try This Weekend
|
TGIF, Curlistas! Hope the week treated you well… and if it didn't, no worries because the weekend is finally upon us. I don't know about you, but I like to use my weekends to unwind and treat myself—whether it's by way of buffalo wings or a home spa day. If you're looking for a little personal pampering this weekend, I found a few facial mask you can try using ingredients you probably have right in your kitchen. Get a nice bottle of wine, get your Netflix binge on and show your skin a little TLC this weekend.
Pampering Pineapple Face Mask via Hello Natural
A face mask, so good you can eat—literally. This tropical face mask combines papaya and pineapple which work together to naturally exfoliate and lighten skin, leaving your face feeling oh so fresh and so clean.. clean.
What You'll Need:
1/2 fresh papaya, peeled and seeded
1 cup fresh pineapple
1 tablespoon honey (optional)
Coffee Mud Face Mask via Savvy Naturalista
This face mask gives you the best of both worlds allowing you to reap the benefits of Bentonite clay and coffee grounds which help revitalize and tighten the skin.
What You'll Need:
4 tablespoons Bentonite clay
2 tablespoons coffee grounds
2-5 tablespoons apple cider vinegar (can be substituted for water)
Avocado Face Mask via Sincerely, Kinsey
The avocado gives this mask such a refreshing smell while the yogurt and honey will give your skin a gorgeous glow.
What You'll Need:
1 ripe avocado
2 tablespoons of honey
1/3 cup plain yogurt
1 teaspoon lemon
Chocolate Oatmeal Face Mask via Gorumande In The Kitchen
This decadent chocolate facial mask recipe is filled with antioxidants that rejuvenate the skin, leaving your face smooth, soft and glowing.
What You'll Need:
1/3 cup cocoa
1/4 cup honey
2 tablespoons heavy cream, or sour cream
3 tablespoons oatmeal powder
Turmeric Mask via Hello Natural
Turmeric is high in antioxidants that is widely used as a skin exfoliant and improves skin's texture. Not only is turmeric said to diminish wrinkles, it helps reduce pigmentation and even out the skin tone.
What You'll Need:
2 tablespoons flour
1 teaspoon turmeric
3 tablespoons milk (you can substitute with yogurt)
A few drops of honey