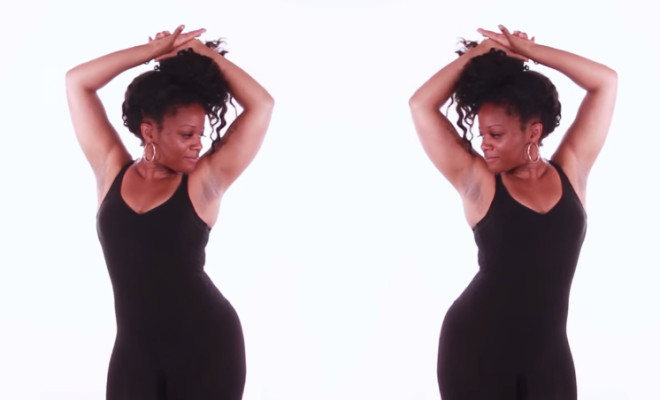 Lifestyle
Poet Daysha Edewi Redefines Beauty, in the Empowering Poem "What If I Knew That I Was Beautiful…"
|
Happy #TGIF Curly Queens! Start the weekend off on a positive note, with an empowering original work by poet, director, and producer, Daysha Veronica Edewi.
Daysha's latest poem, titled What If I Knew That I Was Beautiful…, creatively explores the subconscious impact contemporary music lyrics can have on female self esteem. Daysha analyzes the hypocritical nature of current societal expectations for female behavior, as illustrated through popular music. On the surface, these songs appear romantically sentimental and sweet, even complimentary, however Daysha's poem poignantly points out that these songs suggest that true female beauty is only distinguishable when validated by a male's opinion or gaze, which can ultimately cause an adverse effect on a women's perception of herself. Women are constantly told to simultaneously embody this balance of self-confidence and vulnerable humility, in order to effectively attract the positive attention of others. Certain expectations dictated by modern society do encourage women to genuinely acknowledge their physical beauty, but this is only to a certain extent. Daysha makes a keen observation, noting that women who fail to adequately edit their outward expressions of self-confidence are deemed vain, unattractive, impolite, arrogant, and are even (unfairly) labeled as "b*tches".
Daysha eloquently discusses her poem on her site, dayshaveronicapoems.tumblr.com ;
"There are two huge misconceptions that I think people will have about the intentions of this poem. I feel that a lot of people will think that
1) I believe that no one should listen to these songs or artists.
2) I believe men should never compliment women.
I am saying NEITHER of those two things.
What I AM saying is that there are far too many songs in which the main take-away is that, as a woman, the only way I can be deemed beautiful is when I don't know it. And then the only time it is ok for me to see and own my beauty is when a man recognizes it. There are a lot of women who actually like how they look, but often feel like they aren't allowed to express it for fear of being seen as a bitch.
[…..]
As much as I enjoy some of these songs, it's hard to hear the same 'damsel-in-distress' storyline constantly being perpetuated. If these songs were really meant to inspire women to feel good about themselves, then why not sing about women taking ownership of their beauty. Why not sing about a girl who is comfortable in her own skin, and that is what makes her attractive? Or better yet, why not sing about a woman who is smart, or a woman who loves comic books, or a woman who likes math? Why don't we have songs in which those traits, and characteristics are seen as attractive too?

Why do we even focus so much on women's appearances in the first place?"
(source)
It is unfortunate how people do not recognize that being held to such a standard has the propensity to instigate a complex internal conflict. However, Daysha offers a simple solution to remedy this societal fault; realize you are beautiful because you believe it to be so, and do not base your self worth on the thoughts and opinions of others. Embrace who you are and love yourself, because, at the end of the day, the only opinion of value is the one you have of yourself.
Watch Daysha perform her inspiring, empowering original poem, What If I Knew That I was Beautiful…
What If I Knew That I was Beautiful…

source: YouTube.com, user: BuzzFeedYellow and buzzfeed.com
What If I Knew That I was Beautiful…
An original poem, by Daysha Veronica Edewi
You say, "I don't know that I'm beautiful,"
but what if I did…
Wouldn't you call me a bitch?
Wouldn't you say that I was stuck up and vain,
and a whole bunch of other unnecessary bullshit?
Wouldn't you try to cut my confidence down to half it's size
so that you could swoop in, and tell me I don't know I'm beautiful,
as if this was some sort of surprise?
Well I have news for you…
I am not a parking ticket looking for your validation.
Your songs filled with sweet nothings are no longer allowed to park for free.
They are no longer allowed to cheapen my self esteem.
You say, "I don't know that I'm beautiful,"
but what if I did…
What if I looked in the mirror, and actually liked what I saw;
make up or no make up, flaws and all?
What if I woke up really feeling myself,
and could post a selfie to instagram without any self-doubt?
No questions, contemplations, or hesitations
because the only person's confirmation I would need
is my own.
You say, "I don't know that I'm beautiful,"
but what if I did…
And I accepted compliments at face value,
instead of constantly feeling the need to devalue myself
for the sake of someone else.
"No, stop. You're just saying that to be nice."
"You're just saying that because you're my friend."
If you've ever caught yourself saying these words,
please take a moment and think again.
Please take a moment to marvel at the radiance of your beauty,
both on the outside and from within.
Don't be afraid to be a woman who likes herself.
There is no need to love your body with trepidation.
Because that bottomless pit of hesitation that you feel
are just false expectations appearing real.
So don't let your fear get the best of you
because every part of you is the best of you.
And if that is a crime,
if this just so happens to offend everyone else,
I guess I will be doing bad all by myself.
(source)
Be beautiful on your own terms, Curly Queens!