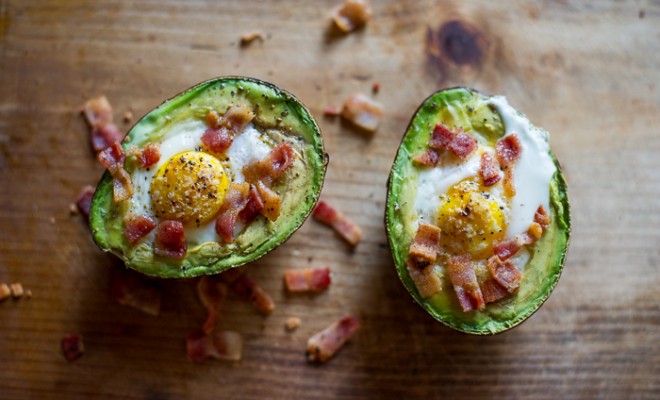 white on rice couple
Health & Fitness
Hair Health (the Breakfast Edition): Eggs in an Avocado Basket
|
Monday morning is here, and as you lazy curlies drag yourselves from bed and rush to work, and if you are anything like me you are probably saying to yourself, "Oh no–did I forget to eat breakfast again?! Ah well, I guess I will just grab a doughnut or bagel on the way, or just skip it all together and hold off eating until lunchtime! No big deal."
Well, it's true what they say about breakfast being the most important meal of the day—it's what jump starts your metabolism and really gets your energy juices flowing. This is why it is critical to not skip breakfast. Also, when composing a breakfast meal, it is critical to choose that sticks to the ribs but isn't so heavy that you are sleepy the rest of the day, and, of course, the healthier the better.
Now, I am not a morning person at all, and would totally rather opt to hit the snooze button one more time, rather than get up a little earlier and try to come up with a breakfast that is nutritious, filling, and yummy, that is until I discovered this recipe for baked eggs in avocados. Fast, easy, and très delish, this is meal is low in sugar, and rich with heart and hair healthy omega 3 fatty acids, fiber, and protein, all healthy must haves for the first meal of the day. They roughly take about 15-20 minutes to bake, which is perfect for the gal on the go- I pop mine in the oven before hopping in the shower, so they are ready by the time I complete getting dressed for the day. So give it a try, and tell us how you like it!
INGREDIENTS(2 servings)
2 ripe avocados
4 fresh eggs
1/8 teaspoon pepper
2 sliced of bacon, cooked then crumbled, optional
1 tablespoon chopped chives, optional
hot sauce, optional
*This recipe calls for crumbled bacon, chopped chives, but is great with whatever fresh herbs or other toppings you have available. I've also substituted bacon with a little crumbled Feta Cheese in the past, and it was still delicious. Also, adding a tablespoon of hot sauce or salsa of salsa is optional, but I personally would highly recommend is as it adds nice color and a nice, flavorful pop of spice that compliments the dish beautifully.
Directions:
Pre-heat oven to 425 degrees.
Crack the eggs in a medium bowl, careful to not puncture the yolks. Set aside.
Cut avocado in half and carefully remove seed. Depending on how big the seed is, the hole in the avocado should be big enough for one small egg. But if the hole looks too small, scoop out a little at a time till it matches the amount of egg.
In a medium baking dish, try to rest the avocado half inside the edge of the dish so that the avocado doesn't tilt over. You need to keep the avocado from tilting so that the raw egg does not spill out. Look at the photo above to see how I did it.
You can crack the egg directly in the avocado, but it might overflow and make a mess. So this technique will be useful: With a medium spoon, gently scoop out one of the yolks and place it into the hole of the avocado. Then continue spooning the egg whites into the avocado hole till it's full. Repeat for both avocado halves.
Add salt and fresh cracked black pepper on top of the eggs, to taste.
Gently place the baking dish in oven and bake for about 15 minutes. Baking time will vary depending on how much egg you have and how big your avocado is. So keep checking the egg to see if it's cooked to your desired consistency.
Sprinkle toppings on top – the chives, crumbled bacon, and feta cheese. on top. Add addition salt and pepper to taste, salsa, or hot sauce, if needed. Enjoy!