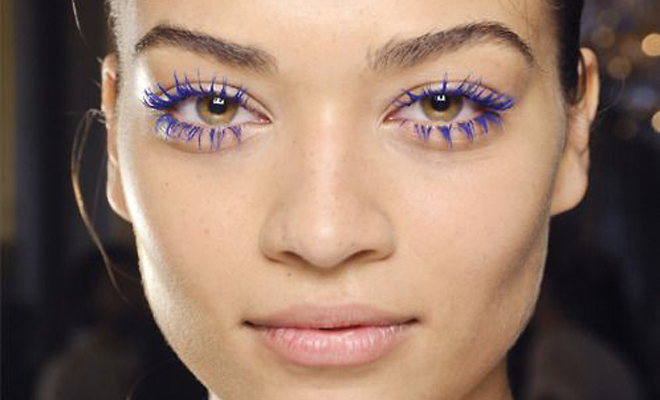 Tinytouchups.com
Beauty
5 Beautifully Bold Mascara Shades, for Your Eye Color
|
Everyone has their classic, elegant "go to" makeup routine, but every so often, it's fun to shake things up. For the hottest haute makeup styles, you can experiment with colorfully eye-catching eyeliners, luscious lip shades, and shimmery shadows, but for a really bold look with avant-garde accents, multi-colored mascaras are absolute must haves!
If you are not accustomed to rocking average blacks and browns, choosing the proper mascara shade to best suit your eye color can pose an interesting conundrum. The goal with all mascaras is to create a contrast that best compliments the natural color of eye's iris, so your eyes really pop and brighten up your entire face. The secret to selecting the best color mascara for your eyes is choosing a shade that best highlights your natural eye color, without overpowering it. Turn up your summer style with these suggested colors of mascara!
Blue Eyes and Brown Eyes
Though these two eye colors differ greatly, often requiring different color schemes for their shadow palettes and eyeliner selections, both blue and brown eyes can pull off similar shades of mascara.
1. Navy Blue Mascara
Tired of blasé black mascara? The subtle hue of navy blue is great for everyday wear, bringing out the natural twinkle of blue or brown eyes.
We suggest…
Diorshow Iconic Mascara (in Navy), by Dior
2. Royal Blue Mascara
Cool tones help to brighten the whites of eyes. Deep sapphire blue or chestnut brown eyes appear especially sexy and sultry, when highlighted with royal blue mascara.
We suggest…
SuperShock Brights Mascaras (in Royal Shock), by Avon
3. Plum Purple Mascara
Deep purple mascaras create an elegant contrast against honey amber or crystal blue eyes.
We suggest…
Givenchy Noir Couture 4 in 1 Waterproof Mascara (in Purple Velvet), by Givenchy
Green Eyes
4. Violet Purple Mascara
Deep hunter and olive green irides glow, against complimentary shades of vibrant violet mascaras.
We suggest…
Yves Saint Laurent Mascara VOLUME EFFET FAUX CILS Luxurious Mascara (in Purple), by Yves Saint Laurent
Hazel Eyes
5. Emerald and Teal Mascara
Bring out the illusory luminosity of hazel eyes, with emerald green or teal shades of mascaras.
We suggest…
Make Up Forever Smoky Lash (in Green), by Make Up Forever
Always be as bold as you are beautiful, Curly Queens!
Sources: 1 | 2 | 3 | 4 | 5 | 6 | 7 | 8 | 9 | 10 | 11 | 12 | 13 | 14 | 15 | 16 | 17 | 18
All images sourced via Pinterest