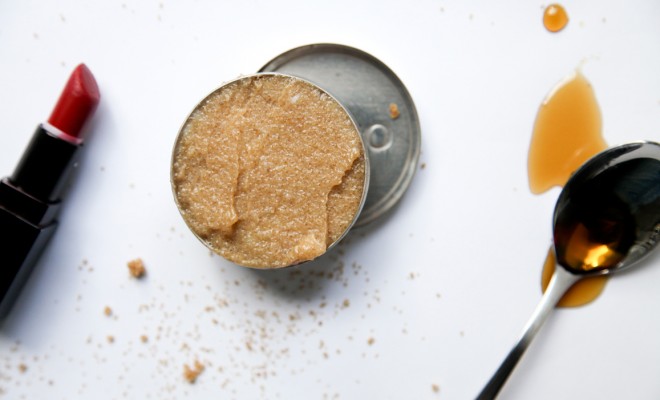 thespicystiletto.com
Beauty
At Home Beauty: DIY Lip Scrub
|
For those of you who caught last week's blog, on where to find this season's hottest lip shades, then you are totally up to date on current colorful, kissable trends! However, in the height of beach season, the sunshine and salty sea water are probably doing a harsh number on your lips, drying them out and making your pucker not so plush. Everyone loves when their lips are soft and smooth, and chapped lips can ruin any day! They are a painful, peely, unattractive nightmare that can't be hidden beneath coats of lipstick. You can choose to reapply your chapstick over and over again, which can get daunting and isn't great for your lips anyway, or you can start with a fresh, smooth base by using a little lip scrub!
Exfoliating lips a couple times a week will remove icky, dead skin cells, thus allowing the moisture of your balms and chapsticks to fully penetrate and moisturize thirsty, dried out lips. Just as any other part of your body, sometimes your lips need a little exfoliation too. This will ultimately make your popping top coat lipstick color last a little longer and really glow. You can buy a lip scrub at your local makeup boutique, however if you are a fashionista looking to save a couple dollars and not break the bank, you can make it yourself in your own exfoliating scrub, right in your own kitchen! So get crafty with it curl-friends, and don't forget to leave comments and tell us what you think!
What you'll need:
Sugar: 1 tablespoon
Honey: 1 tablespoon
Olive Oil: 1 teaspoon
Vaseline or Shea Butter: 1 teaspoon (Coconut oil and jojoba oil are also good alternatives)
1 small container
*insert lipscrub photo on Diy Projees board on pinterest… also photo source is same as the article source, so only have to cite it all below I think?
Directions:
Mix 1 tablespoon of honey with 1 tablespoon of sugar together.
Add 1 teaspoon of olive oil and mix well.
Add 1 teaspoon of Vaseline or softened shea butter and mix well.
*If shea butter is not soft, soften by warming or use a spoon to whip/beat the shea butter before adding to the lip scrub mixture.
Spoon into a container and use within 1-2 weeks.
How to use:
Take a dime size amount of scrub and rub gently onto dry lips, in a circular motion, until some of the sugar has dissolved. Rinse well with warm water. Apply lip balm. Follow up your exfoliation with a little chapstick or lip moisturizer, to keep lips soft, smooth, and sweet all day long!
So whip up a batch of this concoction, and give your lips the tender loving care they crave and deserve!