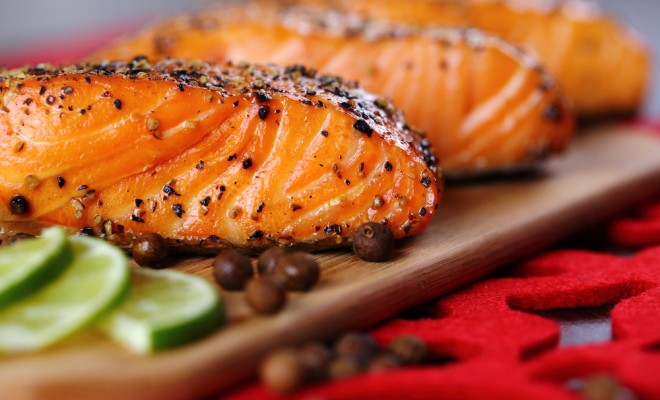 Shutterstock
Lifestyle
Hair Health: Dijon Salmon, Light Creamed Spinach, and Baked Sweet Potato Fries
|
Your physical hair care ritual is critical in terms of hair health, however diet is equally as important. Like the old saying goes, "You are what you eat", so here are some fast, delicious, well balanced meals comprised completely of hair superfoods!
Dijon Salmon, Light Creamed Spinach, and Baked Sweet Potato Fries.
SALMON
Salmon is rich in protein, vitamin D, omega-3 fatty acids, and biotin, all of which are great for optimizing an increase in hair health and growth. Proteins decrease split ends and three percent of the hair shaft is composed of omega-3 fatty acids, so salmon is a delicious remedy for hair breakage. Biotins also decrease hair loss. Your body not only relies on vitamins for hair health, but they are also great for your skin and nails. The nuts in this recipe are also rich in vitamin E, another natural defenses against hair damage.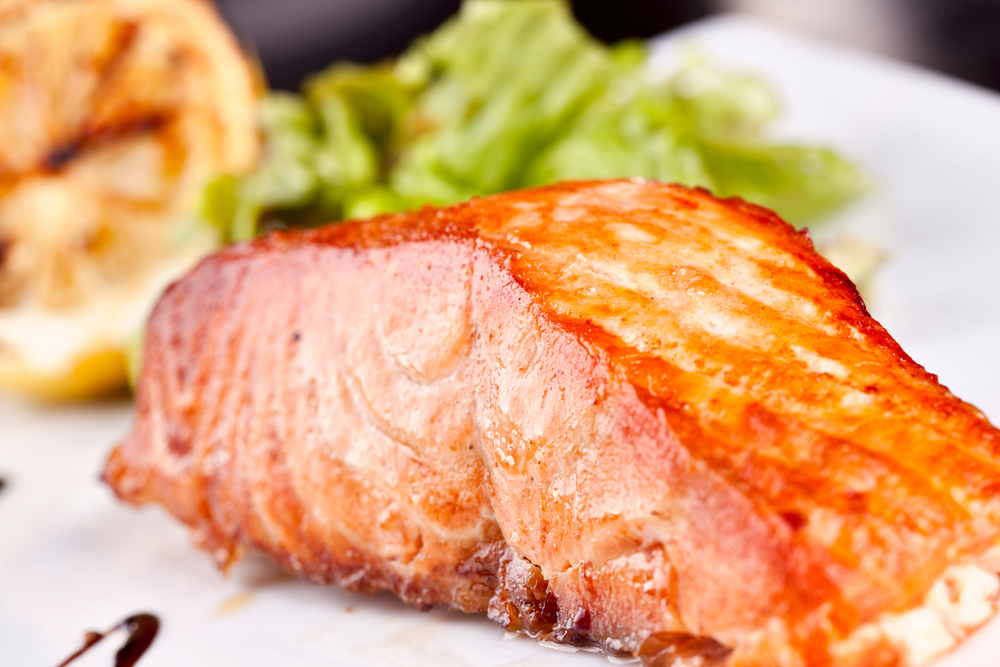 Baked Dijon Salmon: Serves 4
(adapted from AllRecipes and What's Cookin', Chicago?)

Ingredients:
2 Tbsp unsalted butter, melted
3 Tbsp Dijon mustard
2 Tbsp honey
1/4 cup panko breadcrumbs
1/4 cup pecans, chopped
2 Tbsp fresh parsley
4 (5-oz) wild Alaskan salmon fillets
Salt and pepper, to taste

Directions:
Preheat oven to 400 F. In a small bowl, stir together butter, mustard, and honey. Set aside. In another bowl, mix together breadcrumbs, pecans, and parsley. Brush each salmon fillet lightly with honey mustard mixture, and sprinkle the tops of the fillets with the bread crumb mixture. Bake salmon 12 to 15 minutes in the preheated oven, or until it flakes easily with a fork. Garnish with a wedge of lemon and serve immediately.
SWEET POTATOS
Sweet potatoes contain large amounts of the antioxidant beta-carotene, a vitamin that transforms into vitamin A, once entering the body. Vitamin A is excellent because it supports a majority of body functions, including facilitating the production of and protecting precious scalp oils, protecting follicles and increasing growth and natural shine. Instead of opting for greasy, artery-clogging, French fries, try this yummy alternative.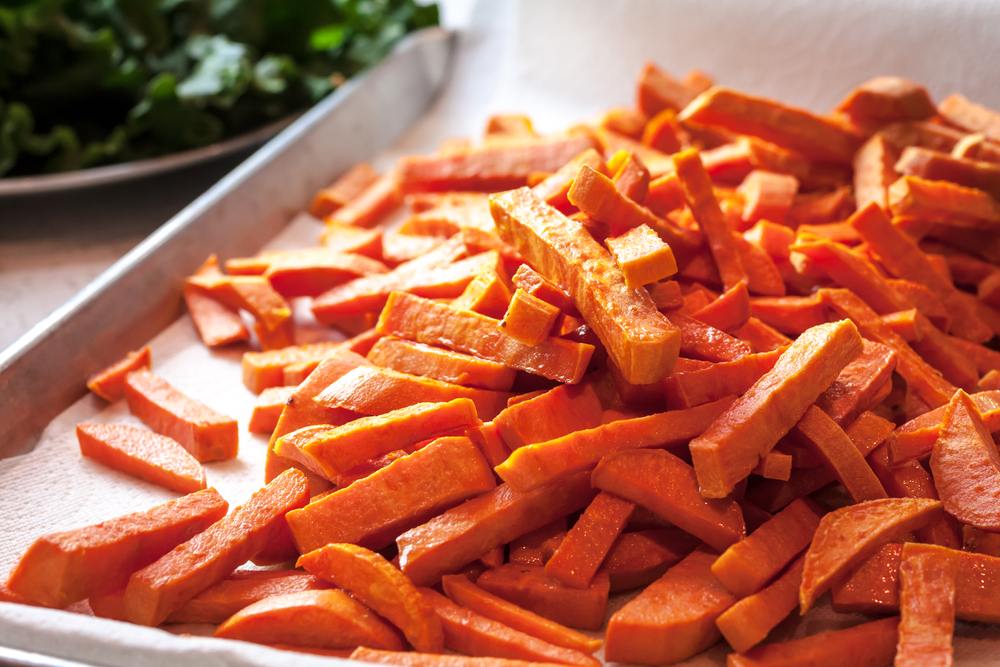 Baked Sweet Potato Fries:
Serves 6
Ingredients:
1/2 cup olive oil
4 sweet potatoes, cut in strips
1/2 teaspoon paprika
1 teaspoon salt
1/2 teaspoon garlic powder
1/2 teaspoon onion powder
1/2 teaspoon black pepper
1 lemon, for garnish
Directions:
Mix together black pepper, onion powder, garlic powder, salt and paprika in small bowl. Set aside. Preheat oven to 450F. Place sweet potato strips in plastic storage bag. Add olive oil and toss. Then add spice mixture to taste. Season as needed. Place on a foil-covered baking sheet. Bake for about 20 minutes.
SPINACH:
Like most dark, leafy, green veggies, spinach is rich in nutrients like vitamin C, iron, folate, and beta-carotene, that guarantee healthy hair follicles and keeps your natural scalp oils circulating. This recipe is the perfect light, healthy alternative to creamed spinach, for those who love the healthy benefits of leafy greens, but aren't a fan of the bitter taste.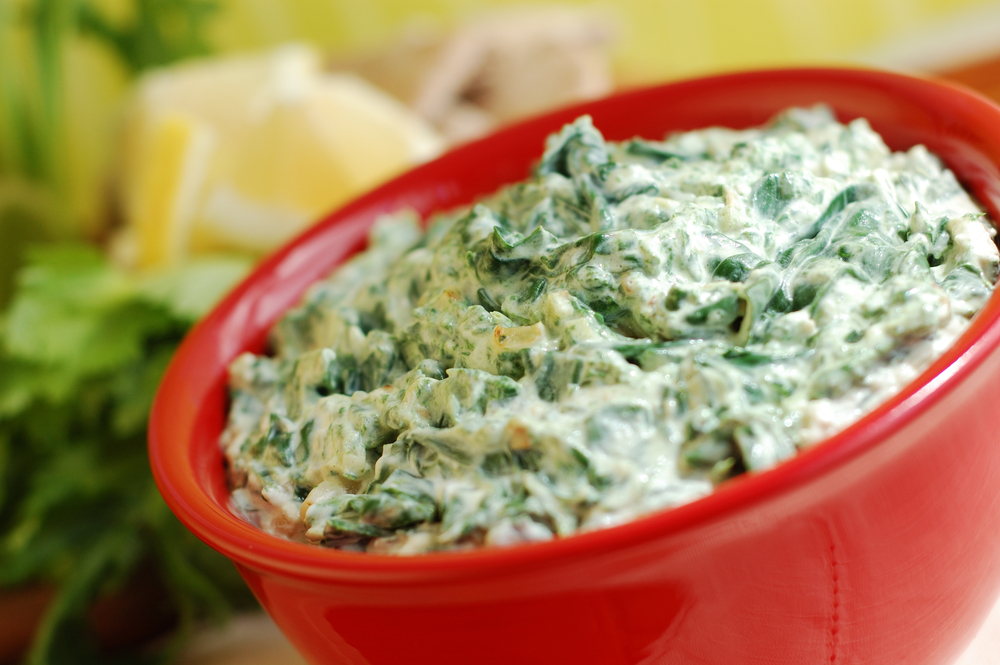 Light Creamed Spinach:
Serves 6
Recipe from Real Simple
Ingredients:
1 onion, finely chopped
1 tablespoon olive oil
1 clove garlic, chopped
Kosher salt and black pepper
1/2 8-ounce bar reduced-fat cream cheese
3/4 cup 1 percent milk
2 10-ounce packages frozen chopped spinach, thawed
1/4 teaspoon nutmeg
Directions:
Heat the oil in a large skillet over medium heat. Add the onion, garlic, 1/2 teaspoon salt, and 1/4 teaspoon pepper and cook, stirring, until soft, 6 to 7 minutes. Add the cream cheese and milk and cook, stirring, until the cream cheese is melted. Squeeze any excess liquid out of the spinach, add the spinach to the sauce, and cook until the mixture is heated through and thickened, 3 to 4 minutes. Sprinkle with the nutmeg.
Enjoy the yummy flavors and embrace your hair's new found strength, sparkle, and shine! A meal that is light, delicious, and has the power to transform your hair? What's not to love?