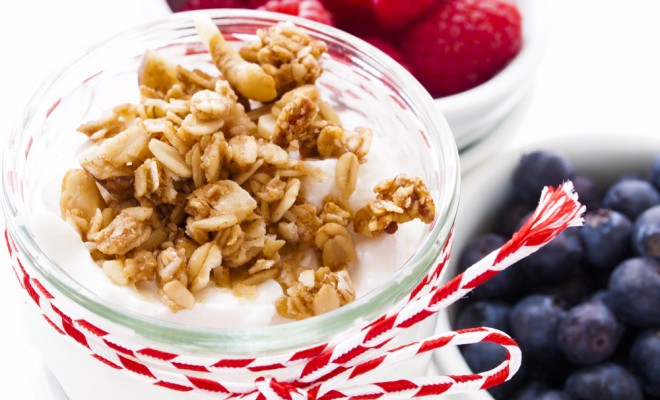 Shutterstock
Lifestyle
Hair Health: Greek Yogurt Parfait
|
I've heard many chefs claim that the most significant moments within a dining experience are the very first bite and the very last bite. I believe this philosophy can also translate to the progression of the series of meals consumed throughout the day. Breakfast is considered the most important meal of the day, because it kicks up your metabolism after a sedentary evening of sleep. Likewise, the idea of dessert surpasses the role of a mere palate cleanser, often regarded as a coveted sweet treat and reward at the end of a long day.
While it is easy to lean toward food high in sugars and empty calories, if you are trying to improve your hair health, try this is fast, easy, delicious recipe, which works well for breakfast or dessert. Like the old saying goes, "You are what you eat", here is a recipe completely composed of hair super foods!
Walnuts: High in biotin, vitamin E, and the only nut with omega 3 fatty acids.
Blueberries/Strawberries: Rich in Vitamin C, which protects against breakage
Greek yogurt: Protein, vitamin B5, vitamin D
Honey: vitamins B1, B2, B3 and natural antioxidants- Smooths hair/ natural softener
Greek Yogurt Parfait (because who doesn't love parfaits?): Serves 4

Ingredients
1/2 cup of blueberries
1/2 cup of strawberries
16oz cup of non-fat Greek yogurt (plain or vanilla)
1/2 cup of chopped walnuts
1/4 cup of honey (I prefer orange blossom honey)
Champagne flute or tall wine glass

Directions
Wash and cut berries into small pieces. Start with a layer of yogurt spread evenly at the bottom of the cup. Drizzle honey over yogurt. Add layer of fruit. Add of walnuts. Repeat again, starting with yogurt.
Bon Appétit Curlfriends!