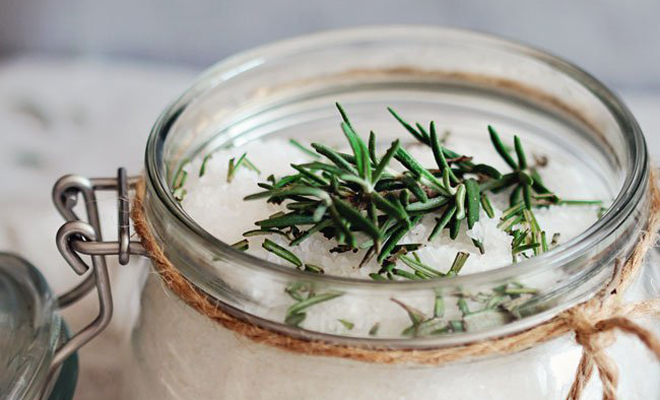 hellonatural.co
Beauty
Weekend Spa: 5 DIY Pampering Recipes for your Bath to Try this Weekend
|
Weekends. Our two-day escape from our hectic work week. A day where it's totally acceptable to lounge around in your pajamas into the late afternoon hours. A day where it's totally okay to order delivery and get lost in a 8-hour Netflix binge. A day where you should totally pamper yourself. And what better way to pamper yourself than with a relaxing bubble bath, a bottle of wine (wine just makes any experience better) and some sweet sounds. Whether you're looking to relieve some of the work week stresses from your body or just relax your mind, I found a few DIY pampering recipes for your bath worth trying this weekend. Your body will thank you… and you can just thank me later.
Healing Epsom Salt Bath Soak via Hello Natural
Were you working out hard all week? Pamper your body (and muscles) to a relaxing epsom salt bath soak. Epsom salt not only makes for a relaxing bath but it's a wonderful exfoliating treatment that will leave your skin radiant and glowing. If you find your body sore from working out, Epsom salt is also known to ease pain and relieve inflammation, making it beneficial in the treatment of sore muscles and even migraines.
What You'll Need:
Epsom salt
Optional: Your favorite essential oils (Lavender is highly recommend), dried herbs, vanilla.
Lavender Bath Bombs via A Pumpkin & A Princess
Never used a bath bomb before? Well it's like taking a bath in champagne. While LUSH may be the innovators of the bath bomb, you can save a few bucks by making some on your own. Since we're in relax mode this weekend, these lavender bath bombs are the perfect accessory for your at-home spa treatment. Infused with lavender essential oil and dried lavender, you'll find yourself super relaxed with this easy DIY recipe.
What You'll Need:
1 cup baking soda
1/2 cup Citric acid
1/2 cup cornstarch
3 tablespoons Epsom salt
2 teaspoons Sweet Almond Oil
3/4 teaspoon water
15 drops Lavender Oil
a few tablespoons of dried Organic Lavender flowers
Honey Vanilla Bubble Bath via Hello Natural
While baths may not be a regular thing in your everyday adult life, you should at least treat yourself to a nice bubble bath here and there. Preferably with a glass of wine and a few candles.
What You'll Need:
1/2 cup light almond oil
1/4 cup honey
1/2 mild liquid hand or body soap (Dr. Bonner's is recommended)
1 egg white
1 tablespoon vanilla extract
Oatmeal & Lavender Bath Soak via TheEveryGirl
End your work week with this ultra relaxing bath soak that will soothe and calm your body and mind, all while relaxing the nervous system and releasing all those after work cocktails from the body. This lavender, oatmeal and Epsom salt combination is truly a power-packed soak.
What You'll Need:
1 cup oatmeal
Lavender Buds (or Culinary Lavender)
1 cup Epsom salt
Blender or Food Processor
Jars or Cloth Bags
Easy Herbal Bath Soak via A Fresh Legacy
Pamper your skin to a delightful herbal bath soak you can easily make yourself. When making your own herbal bath soaks, use a combination of base ingredients—such as Epsom salt, or in this case Argiletz Clay—with dried herbs of your choice.
What You'll Need:
2 tablespoon cocoa butter
3 tablespoon dried lavender flowers
Lemon peel cut into thick strips
2 tablespoon white or green Argiletz Clay
2 drops Lavender Essential Oil
1 teaspoon dried rosemary leaves