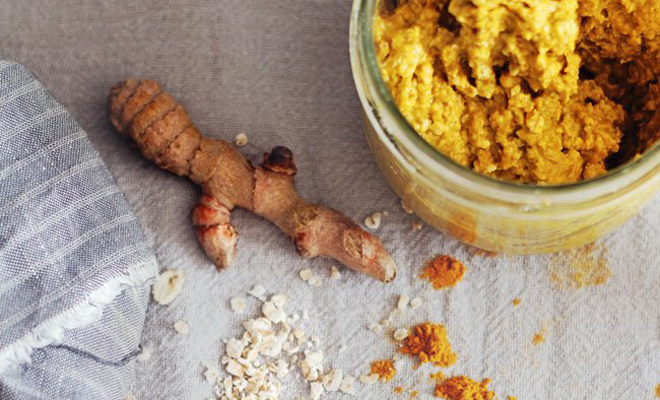 hellonatural.co
Beauty
Weekend Spa: 3 DIY Products for Glowing Skin to Try this Weekend
|
Summer has decided to finally grace us with her presence and after a harsh, cold Winter I couldn't be more excited. 'Tis the Season to do away with the jeans, sweaters and coats and embrace the short shorts, maxi skirts and bikinis. While I work to keep my skin moisturized during the colder months, it's the warmer months that my focus switches to having radiant glowing skin. If you're looking to have beautiful, glowing skin this Summer I've found a few DIY products that you can try this weekend that can help. Remember, no matter what products you use, it's important that you drink a lot of water and indulge on all those delicious fruits and vegetables. Your skin will thank you in the long run.
Turmeric Mask via Hello Natural
I'm a huge fan of this particular mask, I even shared it a while back as one of the Face Mask you should try. Not only does turmeric have amazing healing properties, but it can be used to help brighten skin by helping reduce pigmentation and even out the skin tone. Not to mention is helps clear up inflammatory skin conditions, such as acne, dry skin, psoriasis and eczema.
What You'll Need:
2 tablespoons flour
1 teaspoon turmeric
3 tablespoons milk (You can substitute with yogurt)
A few drops of honey.
DIY Coffee Sugar Scrub via Gimme Some Oven
Do you love coffee? Of course you do. Aside from giving you your morning boost that can turn you somewhat friendly until your next cup, coffee is a wonderful ingredient to use on your skin. Coffee, both an antioxidant and anti-inflammatory, can tighten and tone the look of your skin, diminish the appearance of cellulite and even serve as an exfoliant when you use the grounds as a scrub. If you have some leftover coffee grounds from your weekend cup, give this scrub a try.
What You'll Need:
Coffee Grounds
Sugar (Any sugar will work, but if you have sensitive skin a more finely-ground sugar is recommended)
Coconut Oil (or Olive Oil)
Glowing Skin Smoothie via Simple Vegan Blog
Okay, you got me. This isn't something that you can put on your skin… rather this is something that you can consume for glowing skin. This glowing skin smoothie is not only packed with vitamins and minerals, it's light, healthy, colorful and taste like heaven. This smoothie contains flax seeds, which help keep your skin hydrated and smooth in appearance, banana, which contains nutrients that play a vital role in maintaining the integrity and elasticity of the skin, raspberries, which are wonderful for treating skin-related conditions such as eczema and psoriasis, and lastly dates, which maintain healthy mucous membranes and skins. Go on, treat yourself this weekend.
What You'll Need:
2 cups of water
1 tablespoon of flax seeds
2 bananas
2 cups of frozen raspberries
6 dates