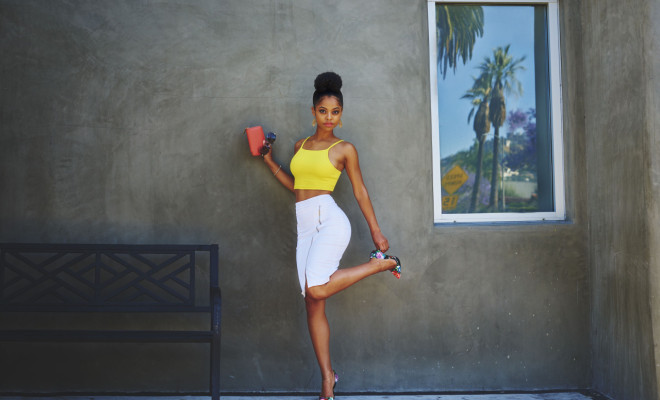 Beauty
Daytime Tricks, For Nighttime Pics Part 2: Transitioning Your Makeup Routine from Professional Chic, for an Evening on Fleek!
|
Yesterday, I discussed how effectively balancing both professional and personal obligations can sometimes lead to scheduling complications requiring the busy, working gal on the go short change her beauty and hair styling routine, in a blog entitled Daytime Tricks for Nighttime Ready Pics Part 1; How to Transition Your Hairstyle From Day to Night, and Always Be Selfie Ready.
As I said yesterday, you start your morning fully energized and fresh faced, but as the day drags on you start noticing the fading remnants of a once gorgeous makeup job. Of course, when presented with a long list of professional to dos, vanity and cosmetic touch ups should be an absolute afterthought, on your list of priorities. Raccoon eyes and faded lips at closing time are no biggie, because it simply signifies a long day of focused hustling. It also means it is probably time to reward your dedication to the daylight grind, with some nighttime fun. If you've made post work plans for a big night on the town, looking fresh and glamorously on point is an all part of the experience.
Personally, getting ready to go out for the evening is a relaxing, cathartic way for me to shake off the stress built up adhering to the demands of my 9 to 5 schedule, because it provides me a sense of starting fresh. If you are fortunate enough to work close to home, you probably won't have much of an issue making this sort of time for yourself, but this is not always a possibility- new deadlines arise, overtime is required, and disappointing both your professional superiors and you urban family is not an option. When this sort of conundrum arises, you may have to resolve with pulling, what I refer to as, a "Superman".
As I explained yesterday, pulling a "Superman" entails booking it out of the office and into the nearest available bathroom for a full beauty overhaul, once your work is completed. Obviously this is not the ideal primping situation, however sometimes it's the only way to do what you need to do for the office, while also avoiding tardiness to your scheduled social event. Since I lack the power of the speed of light, the confined, unfamiliar conditions of random restrooms were never conducive to the elaborate nighttime look I originally envisioned.
These rushed attempts at doing a professional makeup job on myself, often resulted in appearing more frighteningly disheveled than I had before. Exiting with a face full of smears, streaks, runs, and lines, I was probably better off just washing my face and rolling out. However, I refused to accept that looking like the psycho clown from American Horror Story or Sleepy from Snow and the Seven Dwarfs, were the only two options for my face.
I was determined to discover effective solutions that would allow me to transition my professional, office daytime look, into a chic, sophisticated nighttime look, in a matter of minutes. Through much experimentation, trial, and error, I think I have finally gotten making this transition down to a science. So these are my personal tips and secrets to transitioning your makeup from day to night, with ease.
For Your Morning Beauty Routine…
Just like I suggested for transitioning your hairstyle from day to night, the secret to mastering the "Superman" and minimizing your post work day primping routine to maximize your beauty and style, is to use your daytime look as prep for your nighttime look. When rushing out of the office, the last thing you want to do is to start doing your face, from scratch. While your intention may be to amp up the glam for the evening, you should know that this is still a viable possibility while sticking to a simple, early morning makeup routine. If you plan your morning beauty routine accordingly, you can set yourself up to only need a few finishing touches to add a little splash of dramatic glam, before going out for an evening on the town.
1. Cleanse skin really well in the morning, before applying any makeup. A fresh base of clean skin is always more conducive to preserving one's makeup throughout the day.
2. When it comes to your office makeup style, I encourage going as minimalistic as possible. The less makeup you start the day wearing, the less running and smudging you have to clean up later, before going out for the night.
3. Makeup also has a tendency to clog pores, so starting the day with a heavy face of make up will make your skin more vulnerable to unexpected imperfections, especially on those fast paced, high pressured work days. There is nothing worse than starting the morning with a perfectly clear complexion, only to realize you have a giant pimple on the middle of your forehead, by lunch.
4. Drink water throughout the day! Not only is this hydration great for giving your skin a healthy, natural glow, but also it is also good for your overall health.
5. If you do have late night plans, it's all about that base! When it comes to daytime makeup, you want to subtly highlight your naturally gorgeous features. Basic is better, so only wear the essentials:
Primer: Primer acts as a sealant for the rest of your makeup. Apply just a little in the AM, will allow your look to last and last.
A Lightweight Foundation: This will even out your skin tones and eliminate the appearance of shine. I prefer pressed powder foundations also containing a little SPF, because though they do not feel heavy on my skin, I know they are defending my complexion against harmful, cancer educing UV rays from the sun.
Concealer: This will conceal skin minor imperfections, such as dark circles, pimples, and blemishes. I also try to choose concealers that contain a degree of SPF.
Muted, natural looking, Blush or Bronzer: This is to subtly highlight cheekbones. I recommend choosing an all in one palate, as these are more travel friendly.
Nude Eyeliner: Highlighting your bottom eyelid with a subtle, nude liner helps to reduce the appearance of dark circles, and helps highlight your beautiful eye color.
Black or Brown Mascara: You only need to use one or two coats of a natural shade of brown, black, or brown/black to highlight your eyes and make them pop.
A Subtle Shade of Lip Gloss, Lip Stain, or Moisturizer: Lipsticks are also ok, but stick to natural looking tones that should they smudge or fade, do not reveal a drastic contrast between the lipstick shade and your natural lip tones. There is nothing worse than flakey, uneven lip texture and tones.
6. Also, when it comes to establishing a strong makeup base that to carry you throughout the day, quality is key. Choose products that work best for your budget, but if you have to cut corners, avoid doing so on the main products you use, as your everyday wear.
For Your Evening Routine… The Art of the "Superman", Makeup Style
Like I said, once you establish a strong foundation, upping the ante on your regular, office day look and successfully "Superman-ing," is actually not so difficult. After packing a compact and perhaps one or two makeup reserves from the list above for emergency touch ups, all you really need to bring with you is:
Liquid Eyeliner: Liquid liner always has a way of taking one's makeup up a notch, highlighting your eye's beauty by creating a sultry, more dramatic look. Perfect for evening events.
A Bright, Bold Color of Lipstick or Gloss: There is nothing like a bold lip to illuminate a gorgeous smile, and when coupled with a complementary lip liner, the luscious color is sure to last all night long. The right lip color can really bring your entire look together, making you feel like the crown jewel of the evening!
A Finely Milled Eyeshadow: Finely milled shadows go on more smoothly, and have a tendency to hold up better throughout the evening. When choosing the right eyeshadow, it is important to choose a color or colors that best compliments your skin tones and eye color, not colors based on the color scheme of your intended outfit for the evening. If you are planning on "Superman-ing" it, I wouldn't recommend experimenting too much with new colors. A little shimmer and some pops of color are fun, but in the context of a "superman" maneuver, this can also leave more room for error. When it comes to eyeshadow, always work with the familiar and go with what you know.
Waterproof, Lash Extending Mascara: There is nothing more sexy than a set of elongated lashes, and because of your previous application of regular mascara in the morning, you only need one or two strokes to make your lashes pop even more. Also, a waterproof mascara won't rub off, lasting all through the night.
A Perfume Sample: I literally hoard those little perfume sample vials, and my massive collection always comes in handy when I need a quick freshening up. I also travel everywhere with a stick of mini deodorant. Of course I shower daily, but you never know what the day will bring, and lets get real, no girl enjoys feeling stinky.
A Travel Sized pack Baby Wipes and/or Makeup Remover Wipes: No plan is ever totally full proof, so always best to be prepared in the event of an unforeseen makeup catastrophe.
Dividing your beauty routine in this manner, will definitely help you manage your time better, transforming you into a stunning, show stopping, effervescent force- both at the office and on the dance floor. Give it a try this weekend!