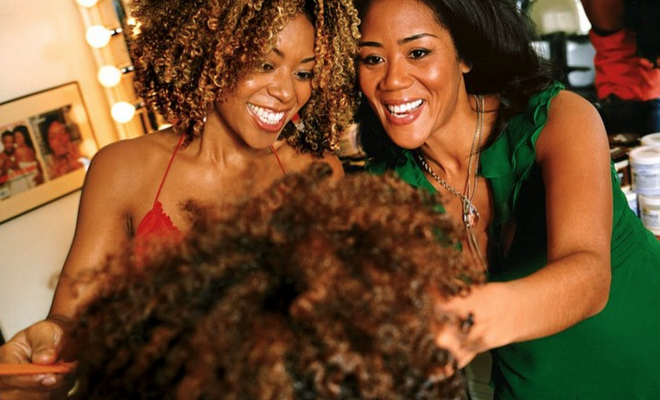 instagram
Lifestyle
Titi Branch Leaves A Legacy of Love, with Gifts from Miss Jessie's
|
Miss Jessie, the paternal the grandmother of Miko and Titi, taught the future co-founders of the Miss Jessie's hair care line from an early age that true beauty is measured by overall strength of character, the key ingredients of which being intelligence, kindness, and generosity. These valuable pearls of wisdom stayed with both Miko and Titi as they navigated life's surprises, successes, and pitfalls. It was this combination of hard work, while maintaining soft, compassionate hearts, which lead the Branch sisters to achieve entrepreneurial success as a team, making history as pioneers in the modern natural hair care movement.
As the older sister, Titi was always accustomed to setting a positive example, and following the advice of her grandmother, compassion and understanding became an inherent, integral part of her spirit. When describing her older sister, Miko as said, "Titi was a giver," and this is evident in her personal investment and motivation for concocting the Miss Jessie's product line.
"The night Titi interrupted my sleep, she introduced me to what would become Curly Pudding, our first breakthrough hair-care product. But in the wee hours of the morning, neither Titi nor I could have known that this invention was to bring us equal amounts of joy and despair. Over the next few years, Curly Pudding, and an entire line of Miss Jessie's products, would afford us opportunities we never imagined—financial stability and independence and hard-fought recognition for being pioneers of the emerging segment of the hair-care business called the 'natural hair movement.' We didn't know then how huge this moment really was. But we had an idea we were on to something that would make our salon customers happy."
— from Miss Jessie's: Creating a Successful Business from Scratch—Naturally
Though Miko and Titi ran the Miss Jessie's empire side by side for many years, crafting innovative products that revolutionized the hair care market, it was Titi who initially lit the powder keg for the natural hair care movement, when she cracked the code on the formula for the first Miss Jessie's product, Curly Pudding. The purpose for creating these products went beyond financial gain or the pursuit of notoriety. As hairstylists, the sisters heard the plea from their clients for products to simplify maintenance and at home styling of natural and curly hair, and responded with hair solutions that ultimately allowed people to embrace their natural beauty, ultimately improving their self-esteem. These products continue to allow women to hold their curly heads high, and appreciate the full depths of their unique beauty.
Once Miss Jessie's skyrocketed to success, Miko and Titi made it a priority to show their gratitude, by giving back to the community. Titi was a compassionate, giving person by nature, and she was always incredibly dedicating to improving the human condition, through utilizing her god given brilliance and creativity. Therefore, we at Miss Jessie's honor her legacy by emulating her generous spirit, donating Miss Jessie's products, the fruit of her innovations, to organizations supporting causes near and dear to Titi's heart. We will keep you updated on our other social media platforms for our donations, so check out our Twitter or Facebook to stay posted on where Miss Jessie's is giving to next. Titi Branch had the heart of a humanitarian, and though she has since passed on, her big heart still beats on through the charitable pursuits of Miss Jessie's.

source: vimeo.com, by Andre Robert Lee
We love you Titi—and we know you are still smiling down on us all.
Sources: 1 | 2 | 3 | 4
Branch, Miko, and Titi Branch. Miss Jessie's: Creating a Successful Business from Scratch—Naturally. New York: Amistad, an Imprint of HarperCollins, 2015. Print.