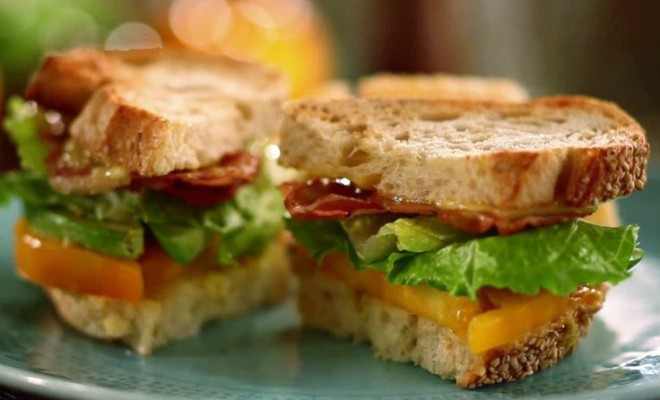 foodnetwork.com
Lifestyle
Hair Health: The Art of the Perfect Summer Picnic Lunch, in 6 Simple Recipes
|
Whether you reside in the beauty of the rural countryside, or if you live in a bustling, buzzing metropolis and escape to residential oasis of local parks, it wouldn't be summertime without a few impromptu picnic gatherings. There is nothing more enjoyable than soaking up the sun, beside a basket of deliciously delectable goodies. You can have your traditional picnic staples- sandwiches, coleslaw, deviled eggs, and fresh fruit desserts, OR you can take these classic dishes up a notch, by giving them an artisanal, eclectic spin. Fast, simple, and amazingly delicious, these recipes are sure to impress, so give them a try for yourself! Why go basic when you can go bold?
1. Cole slaw is beyond boring! Instead, try this exotic alternative by Sunny Anderson, bursting with color and zesty flavors.
Sunny Anderson's Mango Jicama Slaw
Ingredients
(Serves 6)
1 lime, zested and juiced
3 tablespoons apple cider vinegar
2 tablespoons honey
1 red jalapeno, seeded and finely diced Salt
2 semi-ripe mangos, peeled and grated
1 large jicama, peeled and grated
1 bunch cilantro, leaves chopped
1 ripe pineapple, peeled and cut into 3 equal rounds
Directions
In a large bowl, whisk together lime juice, zest, apple cider vinegar, honey, jalapeno, salt and pepper, to taste. Add the mango, jicama and cilantro, and chill 15 to 30 minutes. Cut each pineapple section in half and remove core, so you have 6 canoe-like pieces. To serve, place pineapple canoes on a plate and top with mango-jicama mixture.
For more on this Recipe: Sunny Anderson's Mango Jicama Slaw
Recipe courtesy of Sunny Anderson (2009) and foodnetwork.com
2. What's a picnic lunch without the perfect sandwich? This recipe is a mouthwatering hybrid of a ham sandwich and a BLT.
Jeff Mauro's PLAT (Pancetta, Lettuce, Avocado, and Tomato) with Romano Aioli Sandwich
Ingredients
(Serves 4)
8 ounces pancetta, thinly sliced
Romano Aioli:
1 small clove garlic
1½ tablespoons lemon juice
1 teaspoon Dijon mustard
Pinch of sugar
2 large egg yolks
Salt and freshly cracked black pepper
½ cup canola oil
2 tablespoons grated Pecorino Romano
For the Sandwich Build:
8 slices sesame-encrusted Italian bread, cut on the diagonal
2 heirloom tomatoes, cut into 1/4-inch-thick slices
1 heart romaine lettuce, cleaned
1 ripe avocado, sliced into 1/4-inch strips and drizzled with lime juice to prevent browning
Special Equipment:
Directions
In a large nonstick sauté pan set over medium heat, cook the pancetta in batches until crispy, 3 to 4 minutes each side. Let drain on a paper towel and set aside.
For the aioli: In a food processor, add in the garlic and pulse. This not only breaks down the garlic, but it seasons the bowl. Then add in the lemon juice, mustard, sugar and egg yolks. Sprinkle with salt and pepper. Process until combined, about 10 seconds. Slowly stream in the oil while the machine runs. Scrape down the sides of the bowl, add in the Romano cheese and process for 10 more seconds. Taste and adjust the seasoning with more lemon juice, salt and pepper if necessary.
For the sandwich build: Lightly toast the bread. Smear some aioli on each slice of bread. Top with 2 slices tomatoes, some avocado slices, 2 pieces of crisp romaine and 3 to 4 slices of crispy pancetta. Bite like a king.
Food Network Kitchens suggest caution in consuming raw and lightly-cooked eggs due to the risk of Salmonella or other food-borne illness. To reduce this risk, we recommend you use only fresh, properly refrigerated, clean, grade A or AA eggs with intact shells, and avoid contact between the yolks or whites and the shell. For recipes that call for eggs that are raw or undercooked when the dish is served use shell eggs that have been treated to destroy Salmonella, by pasteurization or another approved method.
For more on this Recipe: Jeff Mauro's PLAT (Pancetta, Lettuce, Avocado, and Tomato) with Romano Aioli Sandwich
Recipe courtesy of Jeff Mauro and foodnetwork.com
3. A refreshing combination of savory and sweet, this summer salad will even have the kids demanding second servings.
Blueberry Peach Grilled Chicken Salad
Ingredients
(Serves 2 Large Portions)
4 cups mixed greens
¼ cup onion, sliced
2 peaches, diced or sliced
½ cup blueberries
6 oz. chicken, cooked, sliced
2 tbsp. goat cheese, crumbles
Salad dressing:
1 tbsp. dijon mustard
1 tbsp. balsamic vinegar
1 tbsp. extra-virgin olive oil
1 tbsp. water
Directions
In a small bowl, whisk all of the dressing ingredients together; set aside. In a large bowl, combine all other ingredients in a large bowl, and toss them together. Divide the salad mixture between two plates and evenly divide the dressing over the salad.
For more on this Recipe: Blueberry Peach Grilled Chicken Salad
Recipe courtesy of Jennifer @ Peanut Butter and Peppers and peanutbutterandpeppers.com
4. The perfect balance of refreshing coolness, with a little extra kick, this cucumber cilantro salad is perfect for your vegetarian and vegan friends, and is sure to be a crowd pleaser.
Cilantro Lime Cucumber Salad
Ingredients
(Serves 5-6 Small Portions)
1 jalapeno, seeded and finely diced
2 cloves garlic, finely minced
3 tablespoons fresh lime juice
¼ teaspoon crushed red pepper
½ teaspoon salt, or to taste
black pepper to taste
3 tablespoons olive oil
2 cucumbers, very finely sliced
4 tablespoons minced cilantro, to taste
Directions
Dice the jalapeno and garlic and add to a medium-sized bowl. Add 3 tablespoons of fresh lime juice, crushed red pepper, salt, and pepper. Use a whisk to incorporate the 3 tablespoons olive oil. Set aside. Finely slice the cucumbers. Use a mandolin if you have it, but a very sharp knife will do the trick. Add the cucumbers to the dressing and stir together. Finely mince the cilantro and add it to the bowl. Stir to combine. You can either let it sit in the fridge to marinate for a couple hours, or serve immediately.
For more on this Recipe: Cilantro Lime Cucumber Salad
Recipe courtesy of thefoodcharlatan.com and adapted from thecreeksidecook.com
5. Typically, when it comes to deviled eggs, I have found the vote to be split right down the middle- people either love them or loathe them. However, this twist on this classic picnic fave is sure to have more voting in their favor!
Katie Lee's Avocado Deviled Eggs
Ingredients
(Yields 24 Deviled Eggs)
12 large eggs
½ cup mayonnaise
Grated zest of 1 lemon plus 2 tablespoons lemon juice
1 tablespoon yellow mustard
¼ teaspoon kosher salt
¼ teaspoon freshly ground black pepper
1 avocado, diced
Watercress leaves, for garnish
Directions
Fill a large saucepan with water and bring to a boil. With a ladle, slowly lower the eggs into the water one by one. Reduce the heat to a low boil and cook for 10 minutes. Drain.
When the eggs are cool enough to handle, remove the shells. Slice each egg in half lengthwise. Remove the yolks and place them in a food processor. Arrange the whites cut-side up on a serving platter.
To the food processor, add the mayonnaise, lemon zest and juice, mustard, salt, pepper and avocado. Process until well blended and smooth, then transfer to a resealable plastic bag. With scissors, snip off a bottom corner from the bag. Using the bag like a pastry bag, pipe the yolk mixture into the egg whites. Garnish with watercress. Serve immediately or cover loosely and chill until ready to serve.
For more on this Recipe: Katie Lee's Avocado Deviled Eggs
Recipe courtesy of Katie Lee and foodnetwork.com
6. These Mini Pancake Nutella Kabobs are a yummy dessert, ending the whole meal on a sweet note.
Nutella Mini Pancake Kabobs
Ingredients
(Serves 8)
1 small bottle Bisquick™ Shake 'n Pour™ pancake mix
1 small jar Nutella®
1 pound fresh strawberries, washed, stems removed, sliced into 1/2 inch thick slices
2 large firm bananas, peeled and sliced into 1/2 inch thick rounds
4 wooden skewers broken in half to make 8 small kabobs
Directions
Prepare the pancake batter according to package directions and pour small dabs of batter onto a hot, lightly greased griddle for 1 1/2 inch diameter pancakes (about 3/4 tablespoon of batter per mini pancake). Cook the mini pancakes for about a minute on each side or until lightly browned. Spread some Nutella on each of the pancake bites and layer the ingredients onto the kabob sticks. Serve immediately and enjoy!
For more on this Recipe: Nutella Mini Pancake Kabobs
Recipe courtesy of Daring Gourmet @ tablespoon.com
Sources: 1 | 2 | 3 | 4 | 5 | 6 | 7
All recipes and images sourced via Pinterest