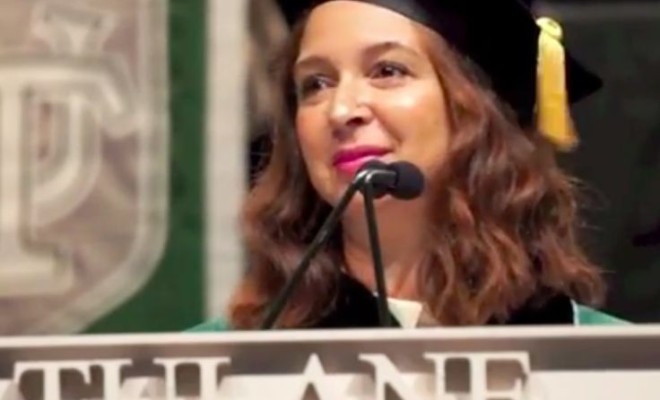 Youtube
Lifestyle
5 Best Graduation Moments of 2015
|
Whether you are completing kindergarten, high school, college, or receiving a masters, all academic achievements are worthy of high praise. Graduation is more than just a celebration of  the successful completion of your education; this ceremonial tradition honors the next great generation of minds who are destined to mold the scope of the future. It is also one of the few opportunities for community role models to share some final words of wisdom with a graduating class, as an inspirational send off for newest generation. These motivational Commencement speeches and ceremonial tradition of distributing diplomas, ensures the graduating parties are ignited with sincere enthusiasm and positivity, as they take their first steps into the real world. Here are some of our favorite moments from some of this year's high school and college Commencement services.
1. Denzel Washington at Dillard University
Academy Award and Tony Award winning actor, Denzel Washington, delivered an Earth shattering speech, as the keynote speaker for the 2015 Commencement at Dillard University, in New Orleans, Louisiana. He encouraged the emerging with these words of wisdom,
"First: Put God first
Second: Fail big… a dream without goals, is just a dream
Third: You will never see a U-Haul behind a hearse .
and Four: Say thank-you in advance for what is already yours […] Don't aspire to make a living, aspire to make a difference."
(source: nola.com)

source: youtube.com, user: Durell Jacque
2. Maya Rudolf at Tulane University
The SNL alum was the keynote speaker for the 2015 graduating class for Tulane University, in New Orleans, Louisiana. Maya Rudolf brought down the Superdome, as she sang the National Anthem, while doing her infamous Beyoncé impersonation. Getting a dose of life advice is best served with a side of laughs.

Source: youtube.com, User: Tulane University
3. Forest Whitaker at California State University, Dominguez Hills, College of the Arts and Humanities
The Academy Award winning actor was the honored keynote speaker for California State University, Dominguez Hills, College of the Arts and Humanities. He left the Class of 2015 with these inspirational prophetic words,
"Life is an active, not passive, journey."
(source: huffingtonpost.com)

Source: youtube.com, User: csuDHTV
4. Tracee Ellis Ross at Brown University
Comedic actress Tracee Ellis Ross (now officially Dr. Tracee Ellis Ross), was given her honorary doctorate, from her Alma Mater, Brown University.
5. Military mom makes a surprise appearance, at her son's graduation from high school.

source: pix11.com
Tuscaloosa, Alabama teen, Steven Turner Jr., was able to walk into the arms of his mother, as he was presented with his high school diploma, from Paul W. Bryant High School. Nine months ago, Steven's mother had been deployed to Guantanamo Bay, making this unexpected, emotional reunion a true miracle.
source: pix11.com
Congrats to the Class of 2015!

Sources: 1 | 2 | 3 | 4 | 5 | 6 | 7
All images sourced via Pinterest