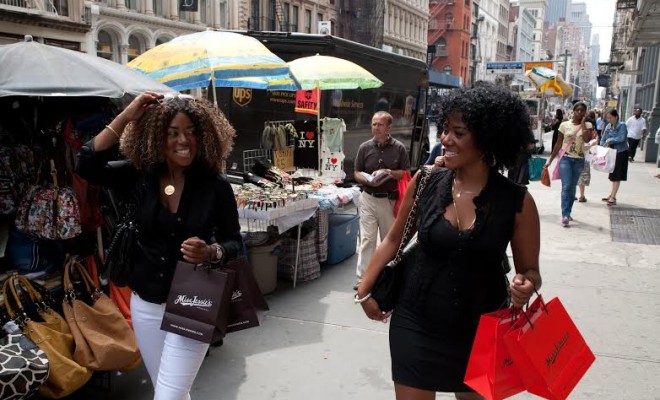 Miko Branch
Lifestyle
Happy Birthday Titi Branch: Miss Jessie's Continues to Celebrate the Life & Legacy of Titi Branch
|
If you have ever been present at the hospital for the delivery of a new baby, you have probably been pressed your face against the glass of the newborn nursery, in awe of the cute, sleeping babies. It's funny how every one of us begins on this same page- innocent little creatures, swaddled in blankets and love, with undetermined futures ahead. I think this is why celebrating one's birthday is so important and has become a significant cultural tradition, because it signifies the opportunity to refresh and start anew, as we forge towards our destiny.
On June 10, 1969, the world was first introduced to Titi Cree Branch.
Though there was no way of knowing this at the time, Titi was amongst the infants in the nursery hospital truly destined for greatness, and her life would be spent making the world a better, more beautiful place.
The Miss Jessie's family is still in disbelief that now Titi, our beloved leader and Co-founder of the Miss Jessie's brand, is no longer with us. However, it is important that we keep her legacy alive by continuing celebrate the amazing woman she was, especially today, her birthday. Titi was a light in everyone's lives, so rather than dwell on the tragedy of her passing, Miko was kind enough to share some of her favorite, joyous memories of her big sister. Join us in our celebration of Titi's amazing life, as Miko reflects on the life of her beloved big sister.
As a Child:
Titi was a tomboy, who loved playing Skelly and Rinfolevio, while growing up in Queens, New York. She also took karate, and quickly excelled through the ranks, achieving a purple belt.
When it came to staying current with fashion trends, the fashionista was a natural, rocking Jordache Jeans. Also, a shoe gal since birth, she loved wearing Pro Keds and Jelly sandals. She even donned a pair of red platform shoes, at her own kindergarten graduation.
When people would ask her what she wanted to be when she grew up, she always confidently responded, "The President of the United States."
Titi was an amazing big sister. She always looked out for and protected me, her younger sister, defending me against any neighborhood bullies, without hesitation.
As a Teen:
Titi was super adventurous, but incredibly smart, making her unafraid to take well calculated risks.
An incredibly gifted student who excelled in her studies, Titi attended Hunter College High School, where she continued to be recognized for her many academic achievements.
Titi was always well liked, and was quite popular in school. Titi never has a shortage of friends.
Titi liked playing sports, and was an active member of the local handball team.
When Whatchamacallit candies first made their debut in the local bodegas, Titi challenged herself to eat an entire bag, which ultimately made her sick…but didn't turn her off the candies for good.
As an Adult:
Titi attended the University of Maryland, where she studied Consumer Economics.
She worked for ABC Eyewitness News, as a Field Reporter and Executive Assistant to the news director.
Her intellect lent to her professional fluidity, as she also obtained both a Real Estate License and a Hairstyling/Barber's License.
Titi's favorite beverages were Diet Peach Snapple and Diet Coke (with ice).
Her favorite snacks were edamame and Gummy Bears. She had an affinity for sweets over savory snacks.
Titi was also an incredible chef; her savory specialty was macaroni and cheese, her sweet specialty was an amazing, yellow layered cake, with chocolate icing.
Titi loved to read, and had the New York Times delivered to her daily.
Her favorite place to get pizza in New York was Donna Bella Pizza, on Chambers and Church Ave., in Manhattan.
Titi was incredible at public speaking, always poised, never succumbing to stage fright.
She loved my son like he was her own.
Titi was very beautiful, not just on the outside, but on the inside as well. She was always as kind, caring, and generous, and I feel lucky to have been blessed with such an amazing big sister and best friend.
Titi's contributions to the creation of the Miss Jessie's product line and Miss Jessie's Hair Salon and Curl Bar was due to her creativity and knack for innovation. Along with sister Miko, she is often credited as a curl expert, revolutionizing the hair care market as a pioneer in the natural hair movement. The effective solutions created via the evolution of the Miss Jessie's brand, ultimately allowed women of all curly textures to embrace their natural beauty. It was Titi's breakthrough discovery of Miss Jessie's Curly Pudding, coupled with her innate compassion for others, that provided individuals with this new appreciation for their inner beauty, as the possibility of curl manageability lead to an extreme boost in confidence across the board.
However Titi's legacy extends past that of a successful hairstylist and entrepreneur; her contributions as a citizen of the world improved the self-esteem and self-image of natural textured and curly haired women all over the globe. Titi left her mark by literally leaving the world a much more beautiful place, for the rest of us. Her fierce tenacity, warm heart, brilliant mind, and vibrant spirit continues to inspire us all.  Titi Branch was one of a kind and the example of the quintessential Miss Jessie's original.

source: youtube.com, user: Miss Jessie's Original
We miss you Titi! Just like the lyrics of Stevie Wonder's song, As, sings;
"Until the rainbow burns the stars out in the sky
Until the ocean covers every mountain high
Until we dream of life as life becomes a dream"
All of us at Miss Jessie's will be loving you always.
Happy Birthday Titi.