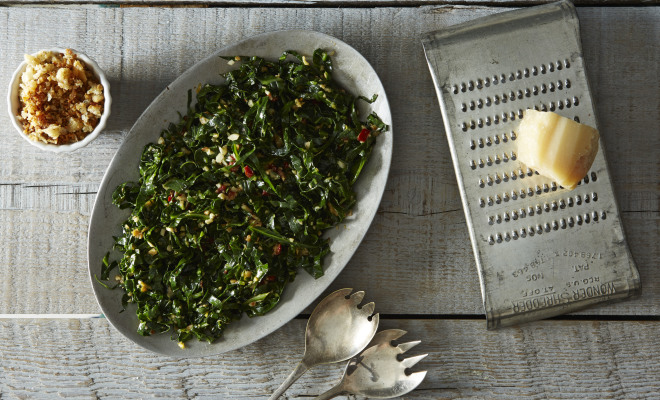 offset.com
Lifestyle
Sunny Side Dishes for Thanksgiving Dinner: Sunny Anderson's Vegetarian Southern Styled Collard Greens
|
Source: FoodNetwork.com
Thanksgiving has always been on of my favorite holidays, because who doesn't love a day dedicated to family and food? Every family has their own traditional dishes to include in their spread, but my family is all about incorporating delicious soul food sides on our table. While most people look foreword to chowing down on a beautiful turkey, my personal favorite part of the Thanksgiving meal are the plethora of sides; collard greens, baked mac and cheese, Andouille sausage stuffing, pecan pie, the works! We use family recipes that have been passed down from generation to generation, and preparing this meal brings our family together in such a harmonious, you can literally feel the love in the room and taste it in the food.
This year, we have run into a slight dilemma with our Thanksgiving side dish menu, because one of my cousins is now a vegetarian. Now, my grandma's recipe for collard greens is infamous, but because she has always cooked her collards in the vein of traditional southern style, the recipe requires a lot of pork, particularly ham hocks, to achieve that rich flavor. My aunts were stumped on how to create a vegetarian alternative to this dish, without sacrificing the taste, because it has always been my cousin's personal Thanksgiving favorite, ever since she was a little kid. After doing a little research, I think I have discovered the perfect solution, thanks to my favorite girl in the kitchen, Sunny Anderson. Fortunately Sunny's version of collard greens still possesses that same southern flavor essence, but is vegetarian friendly! Check out the video and recipe below, to learn how to whip up this delicious dish, and I totally encourage you to add this to your family's Thanksgiving spread too!
Vegetarian "Southern-style" Collard Greens

*Source: foodnetwork.com
Ingredients:
1 tablespoon olive oil
1 tablespoon butter
1/2 large onion, chopped
1 teaspoon red pepper flakes
1 clove garlic, finely chopped
1 pound collard greens, chopped
3 cups vegetable stock
2 tomatoes, seeded and chopped
Salt and freshly ground black pepper
Directions:
In a large pot over medium heat, heat oil and butter. Saute the onions until slightly softened, about 2 minutes, then add the red pepper flakes and garlic, cook another minute. Add collard greens and cook another minute. Add the vegetable stock, cover and bring to a simmer. Cook until greens are tender, about 40 minutes. Add tomatoes and season with salt and freshly ground black pepper.
For more information on this recipe, and other Sunny Anderson Dishes: Vegetarian "Southern-style" Collard Greens Recipe
Recipe courtesy Sunny Anderson and The Food Network
And don't forget to check out Sunny Anderson's TV show, Cooking in the Real, only on the Food Network!