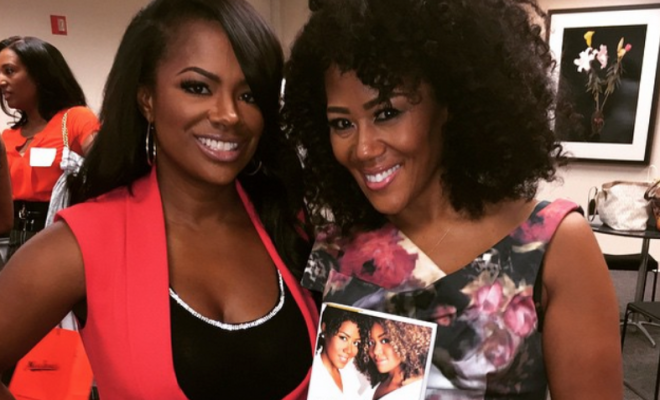 instagram
Lifestyle
#IAmMissJessies Presents: Kandi Burruss' AH-HA Moment
|
Miko Branch went from hairstylist, to curl expert, to product creator, to CEO of the Miss Jessie's brand, and now is a best selling author with her original business guide and memoir, Miss Jessie's: Creating a Successful Business from Scratch, Naturally. Miko is living proof that women are capable of anything, especially when it comes to successfully interchanging multiple entrepreneurial hats, and this book documents she and her sister, Titi Branch's series of personal and professional self-realizations, which ultimately led them to success.
In honor of the release of Miss Jessie's: Creating a Successful Business from Scratch, Naturally, Miss Jessie's is celebrating the personal and professional epiphanies, or Ah-Ha! moment, of accomplished women, with the #IAmMissJessies campaign, as these character building moments are the prime ingredients for success.
We are thrilled to share today's Ah Ha! moment with you, courtesy of Grammy award winning artist, singer, songwriter, producer, reality TV personality, and entrepreneur, Kandi Burruss. Kandi's career as an RnB diva popped off while still in her teens, but rather than burning out early and fading into obscurity, Kandi continued to maintain her professional momentum, and her tenacity, creativity, and inherent knack for innovation, ultimately propelled her to legendary status.
Kandi's creative contributions helped define the standards of culture and music for the 1990s and 2000s, producing tracks that launched and solidified the careers of successful performers, including Pink and Destiny's Child. She also wrote one of TLC's most infamous, female empowering hits, literally coining the now universally recognized term recognized for a lazy, yet ostentatious partner, "Scrub."

source: youtube.com, user: TLCVEVO
Rather than rest on her laurels, the single mother of one continued to reach for the stars, consistently writing and producing music for other artists, producing her own solo albums, and even starring on the Bravo reality TV series, Real Housewives of Atlanta. Due to her resiliency, honesty, and regular hustle Kandi has been an RHOA fan favorite, since joining the cast in Season 2; raising a daughter, pushing her music career foreword, and pursuing a number of other entrepreneurial ventures, including her own adult toy line, online talk show Kandi Koated Nights, writing and producing her own musical, A Mother's Love, all the while navigating the unexpected highs and lows of life. With all this success, one has to wonder what initially lit a fire within Kandi, inspiring her to shoot for the stars, against all odds, which is why Miss Jessie's is pleased to share Kandi Burruss'  moment with you!
"I would have to say my "Aha Moment in life" had to be in high school, when one of my favorite teacher's, Mrs. Turner, told us that since we had been doing so well in school she would take us on a professional audition. Based on this promise, we looked through the newspaper (yes this was a long time ago, and the newspaper was the only way to find things like this..Lol) and found auditions for her to take us on. This was a defining moment for me; it was amazing, because it told me that I did not have to wait to follow "a dream". Many times people would say you need to audition for the school play or the church production, but no one ever said that even as a child/teenager I could audition for something adults may tryout for, and that my dream could be real. The moment I saw that being an actress or singer was a reality, and you could do it and make a living, it made me look at things differently. My mom always said, "If you can conceive the thought you can make it happen," and this was an example of just that. Who would have known that someone inspiring me and taking me to an audition could lead to the path I have gone down which includes: Platinum Records with my group – Xscape, a Grammy, a songwriting discography of about 60 million records, guest appearances on national TV shows, my photograph on magazine covers, executive production on 3 TV shows, and being a cast member of Bravo's number one show… I guess dreams do come true!"
Kandi's multiple accolades will forever maintain notorious status (seriously, the term "scrub" has become so ingrained in current vernacular slang, I predict our grandkids will still use the word, in reference to men that, "Always talk about what they want, but sit on their broke ass.") However, Kandi's fame, financial security, and iconic pop culture status, did not appear overnight. At an early age, Kandi made it her mission to focus and utilize her creative talents, to chase her dream of being a performer. Like Miko and Titi, Kandi made her own success happen from scratch, through continuous hard work, dedication to her craft, and never losing faith within herself. If they can do it, so can you!
And don't forget to add Miss Jessie's: Creating a Successful Business from Scratch, Naturally to your 2015 summer reading collection!
For more info on Kandi Burruss:
Website: http://kandionline.com/
Instagram: @kandiburruss
Twitter: @kandi