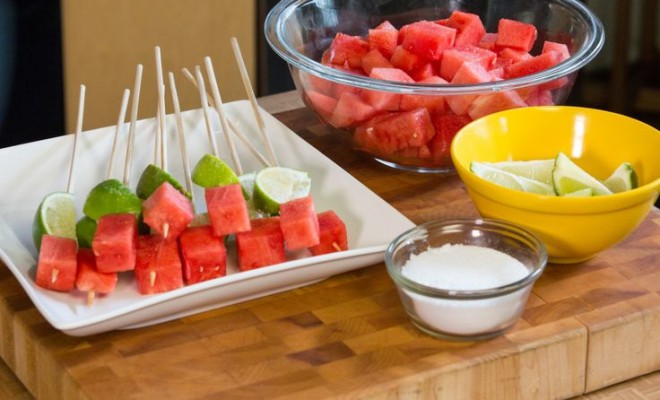 Food Network
Lifestyle
Hair Health: The Labor Day Menu Edition: 6 BBQ Recipe Must Haves
|
Labor Day means relaxing family time, fun in the sun, and of course, a bomb BBQ feast! Instead of going for the same old BBQ staples of boring cold, mayo based salads, or fatty, mundane burgers and hot dogs, or even pulling out the old Jello mold for a dessert only the flies will pick at, spice up your old Labor Day cookout routine with these delectable dishes! Each dish is a fast, easy, creative alternative to BBQ classics. Whether you are a guest at a potluck, hosting the festivities, or having quiet time with just your immediate family, a spread like this is sure to impress the whole bunch!
Instead of the average coleslaw, potato salad, or pasta salad, go for a healthy pop of color with this recipe for Purple Potato Salad:
1. Purple Potato Salad:

Serving Size: 4
Ingredients:
2 pounds purple-skinned fingerling potatoes, quartered lengthwise
1 head garlic, halved crosswise
Pinch of red pepper flakes
5 tablespoons apple cider vinegar
Kosher salt
1 red onion, halved and thinly sliced
1 teaspoon sugar
1/2 cup mayonnaise
4 tablespoons sour cream
1/3 cup horseradish, drained
2 stalks celery, thinly sliced
4 half-sour dill or sweet pickles, diced
3 tablespoons chopped fresh dill
2 tablespoons chopped fresh parsley
Freshly ground pepper
Directions:
Combine the potatoes, garlic, red pepper flakes, 1 tablespoon vinegar and 1 tablespoon salt in a medium saucepan and cover with water. Bring to a boil over medium-high heat, then simmer, uncovered, until the potatoes are tender but not mushy, 7 to 10 minutes. Add the onion and cook until almost tender, about 1 more minute. Drain, discarding the garlic. Let the potatoes cool.
Whisk the remaining 4 tablespoons vinegar, the sugar and 1 teaspoon salt in a large bowl. Mix in the mayonnaise, sour cream and horseradish. Add the celery and pickles, then gently fold in the potatoes and chopped herbs. Season with salt and pepper. Cover and refrigerate until serving.
*Source
*Photo Credit: Rick Lew