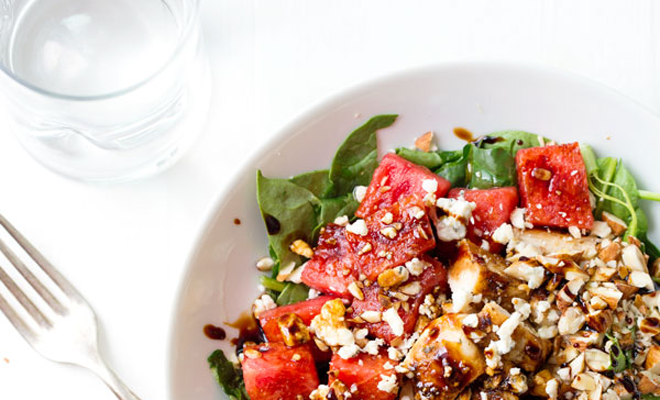 pinchofyum.com
Lifestyle
Hair Health: 8 Summer Salad Recipes
|
I've always found eating healthy during the summer seasons to be a lot less challenging during cold months. For one thing, it is swimsuit season, and the better I eat, the less self conscious I am about showing a little more skin. One of my favorite Summertime treats is a good, classic salad. I constantly find myself craving cold, bright, bold fruits and veggies, leafy greens, drizzled with light dressings, but I get so tired of repeating the same variations of grilled chicken and tomatoes, on top a bed of mesclun greens. In order to shake it up, I went on the prowl for some less conventional salad combos, and here are 8 of my favorite recipe finds. Next time you are making dinner, wondering what to cook, give one of these try!
1. Balsamic Watermelon Chicken Salad:
Ingredients:(Serves 4)
1 cup balsamic vinegar
1 lb. boneless skinless chicken breasts
3 teaspoons all purpose seasoning
1 tablespoons olive oil
4 cups baby spinach or greens
2 cups cubed watermelon
½ cup blue cheese crumbles
¼ cup sliced or crushed almonds
Instructions:
Pour the balsamic vinegar into a small saucepan and bring to a boil. Reduce heat and simmer for 15-20 minutes until the balsamic vinegar is significantly reduced and starting to become syrupy. Meanwhile, turn a grill or nonstick skillet to high heat. Sprinkle the chicken with the seasoning on both sides and drizzle with the olive oil. Transfer to the hot grill and cook until no longer pink on the inside and nicely browned on the outside. Let rest for 5 minutes; cut into small cubes. Layer the spinach with the chicken, watermelon, blue cheese, almonds, and drizzle with the balsamic reduction to taste. Top with additional olive oil if desired.
2. Berry Almond Chopped Salad with Lemon Poppyseed Vinaigrette: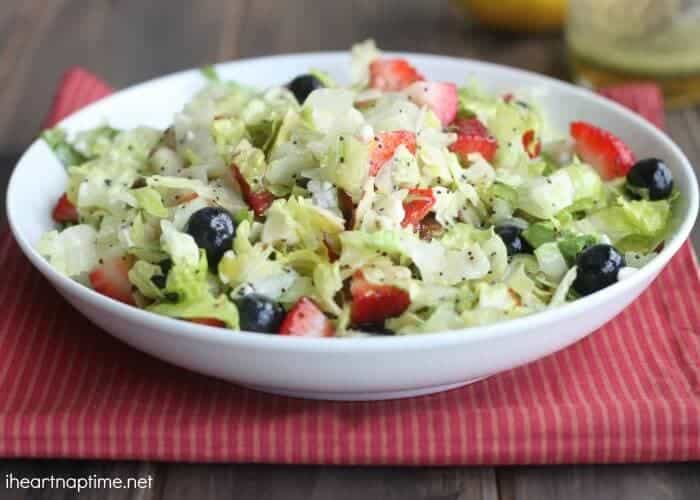 Ingredients:
1 head crisp romaine lettuce, rinsed and finely chopped
1 cup chopped strawberries
1 cup blueberries
1 ripe avocado, pitted and diced
1/3 cup slivered almonds
1/4 cup crumbled feta cheese
Salt and pepper to taste
For the Salad Dressing:
1/4 cup extra virgin olive oil
2 tbsp fresh squeezed lemon juice
1 tbs + 2 tsp White Wine Vinegar
1 1/2 tbsp poppyseeds
1 tbsp honey or agave nectar
Dash of salt and pepper
Instructions:
Whisk all ingredients for salad dressing in a bowl, and set it aside. Assemble salad by tossing ingredients together. Drizzle Lemon Poppyseed Vinaigrette dressing on top, to taste.
3. Apples, Bacon and Raspberry Vinaigrette Salad:
Ingredients:
2-3 Romaine Hearts, Shredded
1-2 apples chopped
1 pkg. Bacon, cooked and chopped
1 pkg. Walnuts
1 pkg Feta Cheese
For the Salad Dressing:
1 cup Sugar
1 tsp salt
1 tsp dry mustard
1/2 cup Red wine vinegar
1/2 small Red onion
1/2 cup olive oil
1 tsp poppy seeds
Instructions:
For the salad, toss all ingredients in a bowl. For the dressing, combine the sugar, salt, dry mustard, red wine vinegar, and red onion in a blender and blend till smooth. Slowly add in oil while blender is running. Stir in poppy seeds. Drizzle dressing on top of tossed salad, and voila! It's that easy.
4. Shredded Kale and Brussels Sprouts Salad with Lemon Dressing: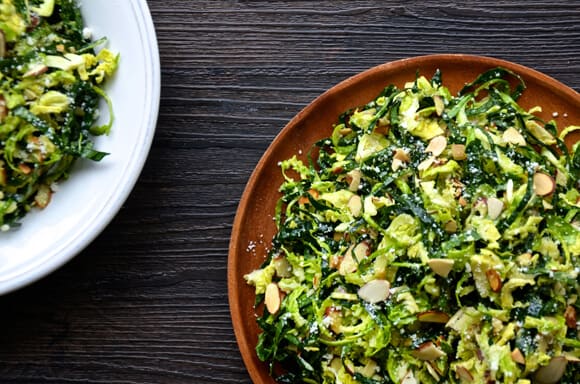 Ingredients:
4 cups finely shredded Lacinato kale (loosely packed)
4 cups finely shredded Brussels sprouts (loosely packed)
1/2 cup sliced almonds, toasted
1/2 cup grated Parmesan or Pecorino cheese
For the Salad Dressing:
1 Tablespoon minced shallots
2 Tablespoons Dijon mustard
1/4 cup freshly squeezed lemon juice
1 1/2 teaspoons lemon zest
2 teaspoons honey or agave nectar
1/4 cup olive oil
Instructions:
For the salad, in a large bowl, toss together the shredded kale, shredded Brussels sprouts and toasted almonds. To shred the Brussels sprouts, cut off the stems, halve them and using a very sharp knife, cut them into shreds, and to shred the kale, strip the leaves from the stems, stack the leaves on top of one another, roll them up and then cut the roll into ribbons. Add as much dressing as desired, tossing to combine, then add the cheese and toss. To make the dressing, take a small bowl, whisk together the shallots, mustard, lemon juice, lemon zest and honey. Stream in the olive oil while whisking continuously until well combined. Season the dressing with salt and pepper to taste. You can add more lemon juice or agave nectar to adjust the acidity or sweetness to your personal taste. Serve immediately.
5. Spicy Sriracha Shrimp and Avocado Salad: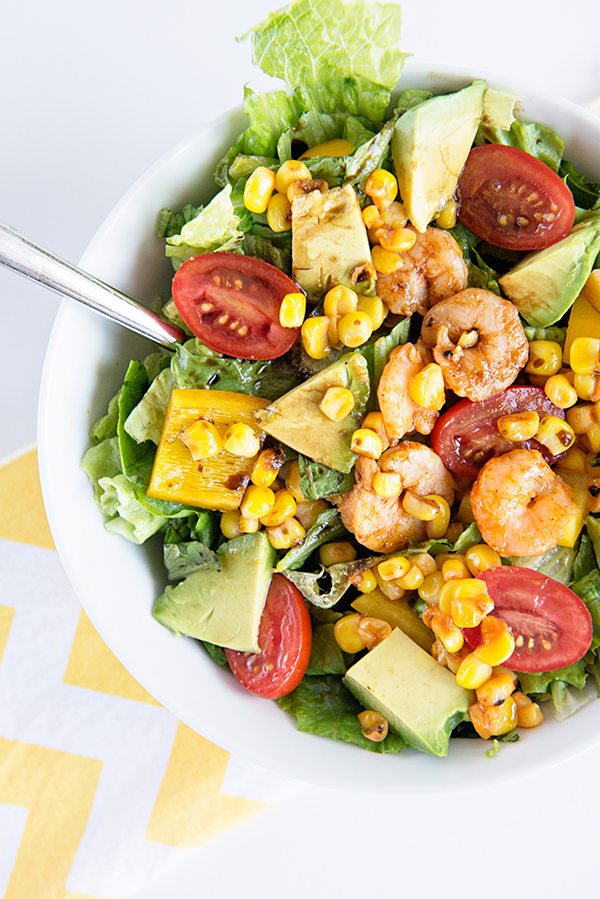 Ingredients:
2 Tablespoons butter
1 pound uncooked medium shrimp, peeled and tails removed
1 small garlic clove, diced
2 Tablespoons Sriracha sauce (or other hot sauce can be used)
1 cup fresh or frozen corn
3 Tablespoons fresh basil, chopped
1/4 teaspoon Kosher salt
1/4 teaspoon cracked black pepper
1 small yellow bell pepper, chopped
1 fresh California Avocado, peeled, pit removed and cut into bite sized pieces
1 cup grape tomato halves
1 head romaine lettuce, washed and cut into bite sized pieces
Drizzle olive oil
Drizzle Balsamic Vinegar
Instructions:
In a large skillet, melt butter over medium heat. Once melted, add the shrimp, garlic, Sriracha, basil, corn, salt and pepper. Cook for 5 minutes, or until shrimp is pink and cooked all the way through. In a large bowl, add chopped romaine lettuce, bell pepper, tomato and California Avocado. Top with shrimp and corn mixture. Drizzle with olive oil and balsamic vinegar and serve.
6. Warm Black Bean and Corn Quinoa Salad
Ingredients:
1½ cups uncooked quinoa
3 cups vegetable broth
3 tbsp olive oil
1 red pepper, finely chopped
1 jalapeño, finely chopped, seeds and ribs removed for a milder flavor
1 small shallot, finely chopped
2 garlic cloves, minced
12oz frozen sweet corn
15 oz Low Sodium Black Beans, rinsed and drained
kosher salt and fresh ground pepper, to taste
1 tsp chili powder
½ tsp cumin
3 tbsp chopped fresh cilantro
2 tbsp fresh lime juice
Diced avocados and lime wedges for serving
Instructions:
First, cook quinoa according to the directions. I cook 1½ cups of quinoa in 3 cups of vegetable broth instead of water to increase flavor. Heat 3 TBS of olive oil in a large sauté pan. Add red pepper, jalapeno, shallot, and garlic. Sauté over medium heat for about 5-7 minutes. Then add frozen corn, black beans, salt and pepper, and all seasonings. Mix well and cook over medium heat until corn and black beans are heated thoroughly. In a large serving bowl add quinoa, black bean and corn salsa, chopped cilantro, and lime juice. Gently combine until all flavors are distributed evenly. Add Diced Avocados on the side, to garnish.
7. Avocado Caprese Salad with Avocado Twist
Ingredients:
2 cups fresh arugula
1/2 avocado, pitted and sliced
3 slices fresh mozzarella cheese
fresh basil leaves
1 tablespoon extra virgin olive oil (I prefer the fruitiest, lightest flavored)
1 1/2 teaspoons balsamic vinegar
generous pinch of sugar or dollop of honey
kosher salt and freshly ground black pepper
Instructions:
Assemble the arugula, avocado slices and mozzarella in a serving bowl. Top with torn or slivered basil leaves. Whisk the extra virgin olive oil in a small bowl with the balsamic vinegar, sugar or honey and season with kosher salt and freshly ground black pepper to taste and pour over the salad. Toss to coat and serve.
8. Honey Lime Rainbow Fruit Salad
Ingredients:
1 lb fresh strawberries, diced
1 lb fresh pineapple, diced
12 oz fresh blueberries
12 oz red grapes, diced into halves
4 kiwis, peeled and diced
1 (15 oz) can mandarin oranges in juice, drained well and sliced into halves
Though not pictured, it is also suggested to add 2 ripe bananas diced, for added sweetness
For the Salad Dressing:
1/4 cup honey
2 tsp lime zest (zest of 2 medium limes)
1 Tbsp fresh lime juice
Instructions:
Add all fruit to a large mixing bowl. In a small mixing bowl, whisk together they honey, lime zest and lime juice. Pour over fruit just before serving and toss to evenly coat (as it sits for a few minutes the juices will gather at the bottom, so toss again before plating).