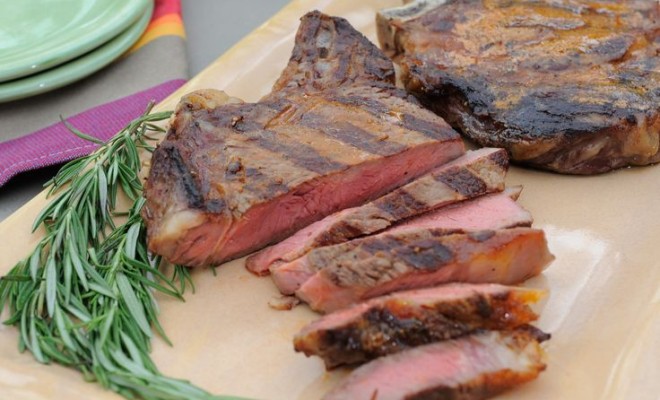 foodnetwork.com
Lifestyle
Hair Health: 5 Post Memorial Day Recipes
|
I know how you feel- it's the Tuesday after Memorial Day, and we are all wishing we could rewind the clock to yesterday, when we were resting pool or beachside, shades down, umbrella's up, and a huge plate of yummy goodies to graze on throughout the day. Memorial Day is the unofficial kickoff to the rest of the summer festivities, and for those of us working a 9 to 5, that extra taste of sunshine is only going to make the next four days of the work week are going to feel longer than ever.
However, though your Memorial Day vacation may be done, it does not mean you can't trick your mouth into still believing you are still on holiday! You can keep the party going on your taste buds the rest of the week, by whipping up some of these delicious summer picnic delights, by some of our favorite TV chefs. Check out some awesome summer cuisine recipes, right here!
Pat's Picnic Potato Salad
Ingredients
(Serves 4-6)
Salt
3 pounds small red skinned potatoes, quartered
1 cup packed basil leaves
1/4 cup packed mint leaves
4 garlic cloves, peeled
1/2 cup toasted, chopped pecans
1 lemon, juiced
Freshly ground black pepper
1/2 cup Parmesan
1 teaspoon red pepper flakes
1/2 cup olive oil
Special Equipment:
Directions
Bring a large pot of salted water to a boil over medium heat. Add the potatoes and cook until just tender, about 12 minutes. Drain well and let cool slightly.
Pulse the basil, mint, garlic, pecans, lemon juice, Parmesan, salt and pepper, to taste, and red pepper flakes in a food processor. Drizzle in the olive oil while the machine is running.
Spoon the pesto into a large serving bowl, then add the potatoes and toss to coat. Serve cold or at room temperature.
For more on this Recipe: Pat's Picnic Potato Salad
Recipe courtesy of Patrick and Gina Neely and FoodNetwork.com
Pat and Gina Neely's Texas Caviar
Ingredients
(Serves 6)
Two 15-ounce cans black-eyed peas, drained and rinsed
1/4 red onion, finely chopped
1/4 cup roughly chopped fresh parsley
1/4 cup red wine vinegar
2 tablespoons extra-virgin olive oil
3 cloves garlic, minced
2 plum tomatoes, seeded and chopped
1 small red bell pepper, seeded and finely chopped
1 jalapeno, seeded and finely chopped
Dash hot sauce, such as Tabasco
Kosher salt and freshly ground black pepper
Tortilla chips, for serving
Directions
Combine the black-eyed peas, red onions, parsley, vinegar, oil, garlic, tomatoes, bell peppers, jalapeno peppers and hot sauce in a bowl. Season with salt and pepper. Cover with plastic wrap and refrigerate at least 3 hours and up to 24 hours. Serve with tortilla chips.
For more on this Recipe: Pat and Gina Neely's Texas Caviar
Recipe courtesy of Patrick and Gina Neely and FoodNetwork.com
Sunny Anderson's Blueberry BBQ Sauce
Ingredients
(Makes 2 Cups)
1 pint (6 ounces) blueberries
3 tablespoons sambal chili paste
3 tablespoons ketchup
3 tablespoons light brown sugar
3 tablespoons apple cider
1 plum tomato, seeded and chopped
Kosher salt, if needed
Directions
In a saucepot on medium heat, add the blueberries, sambal, ketchup, brown sugar, apple cider and tomatoes. Cook, while mashing the berries and tomatoes, until everything is broken down and the liquid begins to thicken, about 10 minutes. Simmer on low to further reduce if desired. Taste and add salt only if you feel it is needed.
For more on this Recipe: Sunny Anderson's Blueberry BBQ Sauce
Recipe courtesy of Sunny Anderson and FoodNetwork.com
Sunny's Smoky Rosemary Grilled Steak
Ingredients
(Serves 4)
For the Steak:
Four 1 1/2-inch-thick, bone-in rib eye steaks
Kosher salt and coarsely ground black pepper
1/4 cup extra-virgin olive oil
4 sprigs fresh rosemary, cut in half
For the Butter:
6 tablespoons unsalted butter
1 teaspoon smoked paprika
Kosher salt
3 sprigs fresh rosemary
2 cloves garlic, grated on a rasp or finely minced
Directions
For the steaks: On a plate, sprinkle the steaks on both sides with salt and pepper, and drizzle with the olive oil. Lay out enough plastic wrap to cover each steak. Tightly wrap the steaks individually with a piece of rosemary on both sides of each steak. Rest at room temperature 2 hours.
For the butter: In the meantime, in a medium saucepan over medium-low heat, melt the butter together with the paprika and 1-teaspoon salt. Stir to dissolve the salt, and then add the rosemary and garlic. Continue cooking on low until the butter is fragrant, 10 to 12 minutes. If the butter begins to brown, turn the heat down. Remove from the heat, discard the rosemary and skim off any foam. Pour into a container and refrigerate until solid.
Preheat a grill or grill pan to high heat. Remove the steaks from the plastic wrap and discard the rosemary. Place the steaks on the grill and cook until the internal temperature reaches 125 degrees F, about 5 minutes per side. Transfer the steaks to a serving platter and top each with a generous scoop of the compound butter. Loosely cover the steaks with a foil tent and allow to rest for 10 minutes, so the carryover cooking brings the final internal temperature up to 130 degrees F (medium rare, closer to rare) before serving.
For more on this Recipe: Sunny's Smoky Rosemary Grilled Steak
Recipe courtesy of Sunny Anderson and FoodNetwork.com
Sunny Anderson's Fruit Salad with Poppyseed Dressing
Ingredients
(Serves 4)
1 cup halved green seedless grapes
1 cup quartered strawberries
1/2 cup blueberries
2 tablespoons sugar
1/4 cup fresh lime juice
1 teaspoon poppy seeds
1/4 cup unsalted pistachios, toasted
Directions
Toss grapes, strawberries and blueberries with sugar in a medium bowl. Stir in lime juice, and poppy seeds. Let sit at room temperature for at least 1/2 an hour. Garnish with pistachios and serve.
For more on this Recipe: Sunny Anderson's Fruit Salad with Poppyseed Dressing
Recipe courtesy of Sunny Anderson and foodnetwork.com
Also, if you follow our blog or recently picked up a recent copy of the Miss Jessie's business guide/ personal memoir, Miss Jessie's: Creating a Successful Business From Scratch, Naturally, authored by the founders of Miss Jessie's, Miko and Titi Branch, then you know that the foundation for the Miss Jessie's empire was able to be conceived and built, thanks to America's high premium on freedom and the principles of the American Dream. That being said, the true significance of Memorial Day has not been lost on us, so we would also like to express our sincere appreciation for all the American men and women who have courageously given their lives in combat, all in order to protect the sanctity of this ideology.
We humbly thank and salute all members of the armed forces and families of those in the armed forces.
Sources: 1 | 2 | 3 | 4 | 5
All recipes and recipe images sourced via Pinterest.