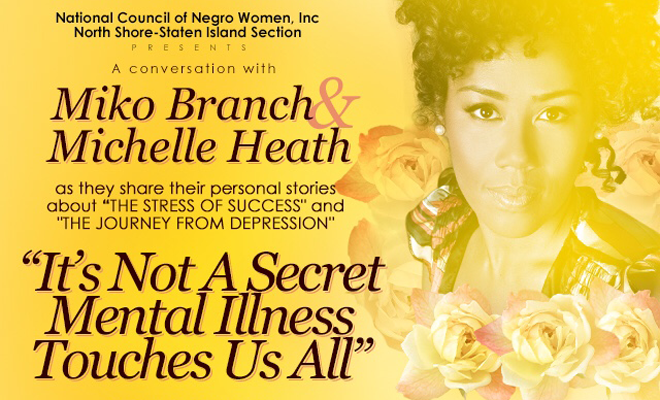 Lifestyle
Breaking the Silence on Mental Health Disorders; Miko Branch to Host Lecture on the Effects of Mental Illness in One's Professional and Personal Life
|
Winter of 2014 was a particularly bleak for Miss Jessie's and the hair care industry, as we endured the loss of one of it's shining stars, pioneer of the natural hair care movement and Co-founder of Miss Jessie's, Titi Branch. In an interview for the May 2015 issue of Essence, Miko fondly reminisced about life with her sister, from little girls to successful, innovative curl-trepreneurs;
"No matter where we went, my sister and I were always known as Titi & Miko. For forty-plus years, she was always by my side. From latchkey kids to the founders of a curly hair empire, we literally raised each other. Although she was only 15 months older than me, Titi took her role as big sister seriously. We learned many lessons by each other's side, and as a team we navigated the new territory of the natural hair movement and the global hair product business."

Source: Essence 
It's no secret that Titi was a brilliant entrepreneur, blessed with unyielding tenacity and keen intuition, and along with her younger sister Miko, they built the Miss Jessie's curl empire virtually from scratch. A major professional success in the prime of her life, Titi appeared to have it all. However, most did not realize Titi was facing a serious internal battle, as she struggled with depression. This struggle presented it's own series of challenges for Titi throughout her life, eventually coming to a head with her unexpected, untimely passing, this past December. This of course, sent shockwaves through the Branch family and all of us at the Miss Jessie's.
Given the circumstances of this awful tragedy, one would anticipate her sister and business partner, Miko, would have every reason to crumble and fall apart. However, as a beacon of positivity, eternal optimist, and all around survivor, Miko is making every effort to properly honor Titi's memory and carry out the Miss Jessie's legacy, by not allowing these horrific events to drag her down into her own pit of despair.
"I think Titi would very much like 2015 to be the year that we shine a light on mental health and depression by opening the doors for valid, sacred, safe communication and therapy. I'm certain she wouldn't want others to think that taking care of their health, which could mean everything from using medication to seeking counseling, makes them crazy or lazy, or makes them sad or think that something is horribly wrong with them. All of us have pains and aches and body parts that don't work properly. My sister's aches and pains happened to affect her brain and mind. There are a lot of Titi's in the world. Some of them are well-known and some are not, but we all must be able to have public dialogues (and intimate dialogues with loved ones) about mental illness and feel good about seeking help consistently, free from guilt and shame."

Source: Essence 
Miko has courageously chosen to utilize this personal obstacle as an educational platform, opening up the floor for a candid discussion about a topic so many are too ashamed or afraid to address, yet are faced with on a regular basis. On Saturday, May 30th 2015, Miko Branch, along with Michelle Heath, author of 7 Principles to Becoming Your Own Superhero, are hosting a constructive dialogue about to how to healthily cope with mental illness, sponsored by the National Council of Negro Women Inc., North Shore-Staten Island Section.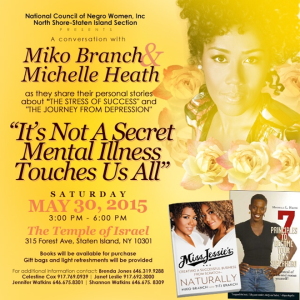 Whether you are close with someone afflicted with a variation of mental illness, including depression, or you yourself struggle with these commonly misunderstood diagnosis', it is something that has proven to increase in toxicity, when left to fester in the shadows of secrecy. It is our hope that opening the channels of communication about this difficult and complicated subject, will help alter people's perception of and response to mental illness. This dialogue will help create a better understanding of mental health disorders, inspiring people to break their own silence and ultimately facilitate an increase of support amongst the community. We hope you will take advantage of this valuable learning experience, and will see you on Saturday.