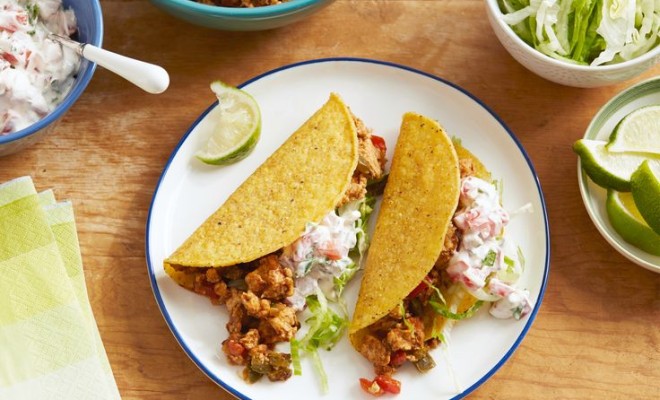 foodnetwork.com
Lifestyle
Hair Health: The Manic Monday Dinner Ideas for the Girl on the Go
|
No one likes Mondays! Kissing goodbye the relaxing hours of "me time" for another week of multi tasking, scheduling, and balancing responsibility is the worst feeling in the world. You hit the ground running, hustling and bustling from appointment, to meeting, to your desk, to another meeting, only to look up at the clock and realize it's already dinner time. Figuring out what to eat in the evening can be just as stressful as juggling your priorities throughout the workday, however you can make gourmet quality meals in half the time by taking one versatile main protein, and reusing it as an element in your dishes throughout the week. Simplify your weekly meal preparation with what I call, the "Manic Monday" technique.
MONDAY
A simple roast chicken recipe, is a tasty foundation for the rest of your meals this week. If you are cooking for yourself, the recommended serving size is perfect for carrying out the Manic Monday meal plan, however if you are used to cooking for 3 or more people, adjust the serving size of the recipe accordingly, so you have enough leftovers to carry you through the week.
Patrick and Gina Neely's Honey Spiced Roasted Chicken
Ingredients
(Serves 4)
2 tablespoons honey
2 tablespoons olive oil
1/2 teaspoon ground cinnamon
1/2 teaspoon smoked paprika
Kosher salt and freshly ground black pepper
One 4-pound roasting chicken, rinsed, dried and giblets removed
3 sprigs fresh rosemary
1 lemon, sliced
Directions
Preheat the oven to 350 degrees F and adjust the racks to the center of the oven. Fit a roasting pan with a V-rack.
Mix together the honey, olive oil, cinnamon, smoked paprika and some salt and pepper in a small bowl.
Sprinkle the cavity of the chicken with salt and pepper. Stuff the cavity with the rosemary sprigs and lemon slices. Place the chicken in the V-rack-fitted roasting pan. Sprinkle the outside of the chicken with salt and pepper. Tie the drumsticks together using butcher's twine. Brush the outside of the chicken with about half of the honey glaze.
Transfer the chicken to the hot oven. Roast about 30 minutes, and then brush the glaze on the chicken once more. Continue to roast the chicken until the skin is golden brown and crisp , and an instant-read thermometer reaches 165 degrees when inserted in the thickest part of the thighs, about 45 minutes longer.
For more on this Recipe: Patrick and Gina Neely's Honey Spiced Roasted Chicken
Recipe courtesy of Patrick and Gina Neely and foodnetwork.com