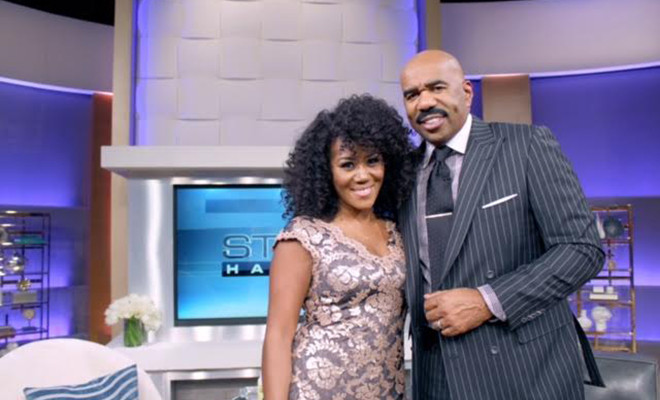 miss jessie's
Entertainment
Catch Miss Jessie's Co-Founder and CEO, Miko Branch, on The Steve Harvey Show TODAY!
|
Ladies- it's time to cue up your DVRs, because today the Queen of Curls, Miko Branch…
sits down with King of Comedy and talk show host, Steve Harvey!
That's right! This afternoon's episode of The Steve Harvey Show, will feature a one on one interview, with none other than beloved Miss Jessie's co-creator, pioneer of the natural hair care movement, and author of the bestselling personal memoir/business guide Miss Jessie's: Creating a Successful Business From Scratch, Naturally, Miko Branch. Miko shares with Steve Harvey and audiences how she and older sister, Titi, built their business from the ground up, as inspired by the resourcefulness, tenacity, determination, and creativity of their paternal grandmother, Miss Jessie Mae Branch. You can't miss this amazing meeting of the minds, as both inspirational, impressive entrepreneurs share the secrets to finding professional success, specifically how to go about creating it for yourself.
For more on today's episode, CLICK HERE.
We are all so proud of Miko, and can't wait to listen and learn from she and Steve Harvey's words of wisdom, based on their extensive professional experiences.
The show airs in the Greater New York City Area, this afternoon on WNBC at 3:00pm, and for all you night owls, it will also air again at 3:00AM. To find out what time and channel this episode of the Steve Harvey Show will air in your area, check your local listings, or CLICK HERE.
Can't wait to see Miko sit down as a guest on the Steve Harvey Show? You can tide yourself over until the episode airs, by listening to Miko's April 2015 radio interview segment with Steve Harvey, on the Steve Harvey Morning Show.
Tune in to today's episode of The Steve Harvey Show, and learn how to act like a success and think like a success, NATURALLY!