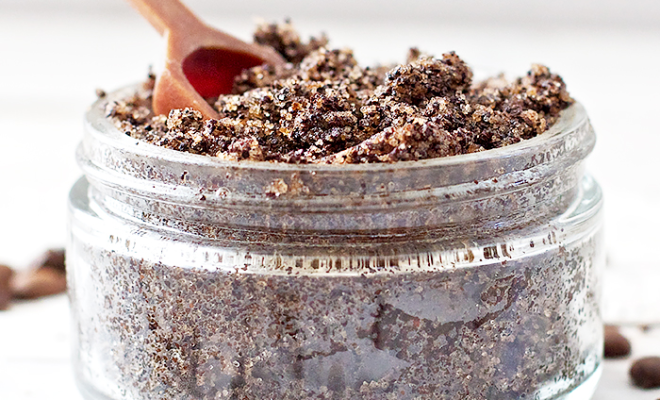 Byrdie
Beauty
6 DIY Beauty Treatments Using Coffee
|
The holiday season is a time of love, laughter, and joy, but at the same time, it can also be a little stressful and incredibly exhausting. It's the time of year in which everyone's calendar of personal and professional obligations fills up beyond capacity, and we are each expected to go above and beyond our typical call of duty juggling our time and balancing our finances. Now I for one have always been the type that's enjoyed giving more than receiving, but sometimes I get so caught up in figuring out how to please others throughout the holidays, that I forget to also really take good care of myself. I'll be the first to admit that the combination of cold weather, holiday work deadlines, extreme gift shopping, and the extensive list social gatherings I'm expected to attend, makes me want to be a total slug during those rare moments I do have for myself. I forget to eat on a regular schedule, and more often than not, my meals are not well balanced and healthy as they should be. I also know I don't get enough sleep every night, and my regular workout regiment falls by the waist side.

*source: buzzfeed.com
Though I know I can get on track with my regular routine after the holidays, I always dread looking at myself in the mirror come January 2nd, when it finally occurs to me that binge watching Christmas movies all night does not count as sleeping, and dancing with a glass of champagne in one hand and a plate of pigs in a blanket in the other, is not really sufficient cardio.

*source:tumblr.com

*source:tumblr.com
I can always expect and handle a little weight gain, switching back into a healthy and active routine right away, but one thing that always shocks me is how dried out, drab, and dreary my skin looks. I'm pretty good about consistently taking care of my skin and face, but the more I bounce between work, parties, and battling crowds while shopping, the more I've noticed my exhaustion shows on my face in and my skin's lackluster appearance. This year I've actively tried to prevent my annual January 2nd, "Great times- totally worth it, but BLEH- I look like a flakey Dali painting," self-realization by researching the best natural remedies for skincare. In doing so I learned that one great skincare secret is something you can find right in your own pantry- coffee!

*source: publishingcrawl.com
Yes- it's totally ironic that excessively imbibing coffee is definitely a factor that contributes to my lack of sleep, negatively effecting skin's appearance and overall health, yet utilizing it as a primary ingredient in skincare products brightens and revitalizes skin, but it's true! Coffee is great for the complexion, because the natural antioxidants within caffeine reduces puffiness, eliminates skin impurities, as well as heals, tones, and refreshes skin. This year, I'm killing two birds with one stone; I'm making batch upon batch of these coffee based, DIY beauty treatments recipes, to help preserve my skin's shine, as well as distributing them as holiday gifts to my friend's and family! Check out my six favorite DIY coffee flavored skin treatments, to make your own basket of nourishing skincare goodies for the special people in your life.
To reduce the appearance of lines, puffiness, and dark circles around the eyes, try out this coffee based under eye cream.

*source: soapdelinews.com
For more details on this DIY tutorial: DIY Natural Coffee Under Eye Cream
For soft, smooth, delicious smelling skin, try this soap made from coffee grounds! It also helps to reduce the appearance of cellulite.

*source: popsugar.com
For more details on this DIY tutorial: Coffee Ground Soap
Hydrate your lips with this this yummy Coffee Lip Balm.

*source: hardlotion.com>
For more details on this DIY tutorial: Coffee Lip Balm
Invigorate your skin with this rich Coffee Face Mask.

*source: byrdie.com
For more details on this DIY tutorial: DIY Coffee Mask
Exfoliate and moisturize, with these DIY tutorials for this decadent, whipped coffee flavored body frosting recipe and coconut coffee body scrub cubes.

*source: soapdelinews.com
For more details on this DIY tutorial for lotion: DIY Whipped Body Frosting

*source: savynaturalista.com
For more details on this coffee scrub DIY tutorial: Coconut Coffee Body Scrub
All of these DIY beauty treatments make great holiday stocking stuffers and gifts for all your friends and family. For an additional personal touch, try packaging these items in recycled cups from their favorite local coffee houses.

*source: thecheapskatemom.com
For more details on this DIY idea: Starbucks Lotion
Sources: 1 | 2 | 3 | 4 | 5 | 6 | 7
All images sourced via Pinterest