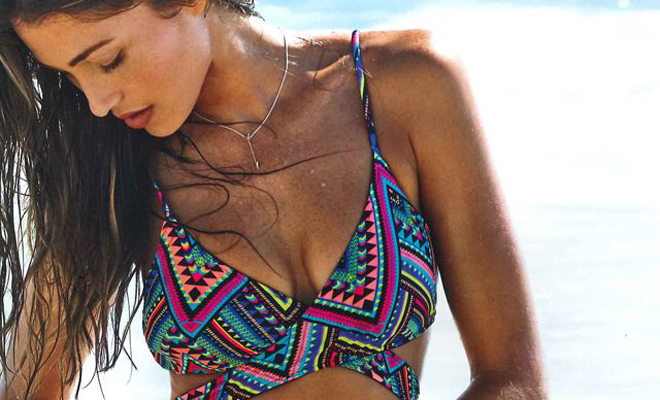 sundancebeach.com
Fashion
20 Sexy Swim Silhouettes For Summer 2015
|
Swim season is upon us, which means it's time to update your bathing suit collection once again. Though the minority of genetic lottery winners that are blessed with Victoria Secret model-esque physiques may revel in this time of the year. I personally have yet to come across a person who is genuinely enthusiastic about the prospect of bikini shopping, in real life. My personal inner circle of female confidants are an incredibly diverse collection of body types, however this distaste for slipping on spandex, surrounded by mirrors and under the glow of horrendous fluorescent lighting, seems to be the general consensus. My friends are all very strong, confident, self assured women, who may not always love everything about themselves at every minute of the day, but strut their stuff through the streets, heads held high, 99.99% of the time.
It's the shopping process itself that lends itself to transforming into a high-pressure, anxiety-inducing situation, that can rattle the poise of even the most self confident women. For the past few decades, designers seemed to have had a "one size fits all" attitude towards swimsuit styles and fits; either the itty bitty bikini, OR the baggy, saggy granny swim smock. Obviously this lack of variation is frustrating, because these options are not enough to compliment the beautiful assortment of female figures that actually exist in the world. I myself have resorted to shopping for bathing suits exclusively online, because though I have learned to embrace my figure, if I must unearth repressed, stale insecurities and cry, I would rather do it within the privacy of my own home.
While browsing online in anticipation of this year's swimsuit shopping, I have noticed a distinctive shift in bathing suit trends for this summer- the variety of swimsuit silhouettes has increased significantly! The happy medium between revealing string bikinis and maw maw swim dresses exists! FINALLY- the fashion gods have heard our prayers, sharing with us a gorgeous series of sexy, yet subtle swim options, capable of catering to the entire, beautiful spectrum of female figures. Refresh your swimsuit stash with these 20 swimming silhouettes that flatter your uniquely gorgeous figure.
The 2015 Bikini