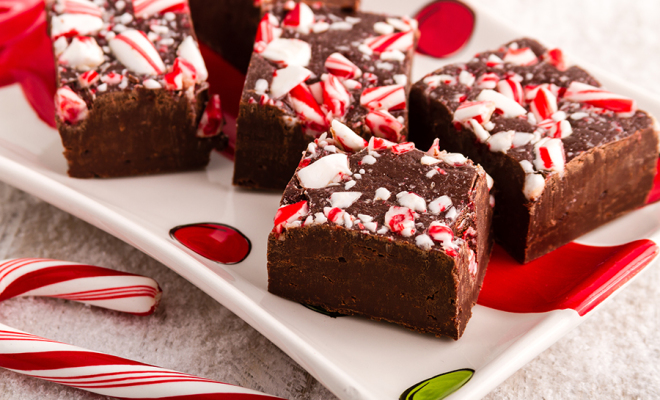 shutterstock.com
Lifestyle
Tis the Season for Christmas Treats; Ree Drummond's Holiday Peppermint Fudge Recipe
|
Though I normally like sharing and cooking recipes of a healthy nature, the holiday season in full swing and tis the season to splurge! And what is more indulgent than delicious, rich chocolate fudge, infused with peppermint crumbles? This quick and simple recipe by Ree Drummond makes a great holiday treat to bring to the office and share with co-workers, or make a thoughtful gift to a friend in Secret Santa. This substitute for the traditional Christmas cookie is sure to make everyone in the family smile. Leave out a plate for Santa, and I'm sure you can expect some extra special gifts under the tree this year!
Ree's Holiday Peppermint Fudge
Ingredients | Serves 10-12
Cooking spray, for spraying the foil
3 cups semisweet chocolate chips
One 14-ounce can sweetened condensed milk
Red and white peppermint candies, crushed, for topping
Directions
Line an 8-inch square baking pan with foil. Spray the foil with cooking spray. In a medium saucepan over low heat, combine the chocolate chips and sweetened condensed milk and stir until it's all melted and smooth. Pour it into the prepared pan and spread to even out the surface. Sprinkle on the crushed candies. Refrigerate for 2 hours. Lift the foil out of the pan and peel it off the fudge. Cut into small squares.
Recipe courtesy Ree Drummond and The Food Network
For more info on this recipe, Click Here. For more recipes by Ree Drummond, tune into Pioneer Women, only on The Food Network.
(Source)
*All images sourced on Pinterest