Love & Sex
Mariah Carey and Nick Cannon's Separation: Can They Work It Out?
|
Recently rumors have surfaced that there is trouble in paradise for Mariah Carey and Nick Cannon, and after 6 years of marriage and two children, 3 your old twins Moroccan and Monroe, the couple has decided to separate. The couple's relationship was initially somewhat questionable to the public and people often doubted the couple's potential to sustain a meaningful, romantic relationship for the rest of their lives, especially considering the quick relationship turnaround consistent with a majority of celeb couples. From their 10 year age difference (Mariah is 44, Nick is 33), to their abrupt courtship of only eight weeks prior to tying the knot, statistically it seemed like the odds were always against them. Also their celebrity status forced them to endure the pressures of being in the limelight, and not to discredit Nick's career as a working actor, comedian, and television personality, but the vast discrepancy between his and Mariah's celebrity star power has always been apparent, as she is considered an international pop and RnB legendary diva. However, in spite of all this, the couple has always appeared to be genuinely head over heels in love with each other; always kissing and cuddling for the paparazzi, and supporting (or sometimes even defending) each other to haters in the press. On the surface, Nick Cannon and Mariah Carey looked like a couple that really had it all—successful careers, beautiful children, a happy home—even I believed they were doing an incredible job of defying the odds, allowing love to conquer all.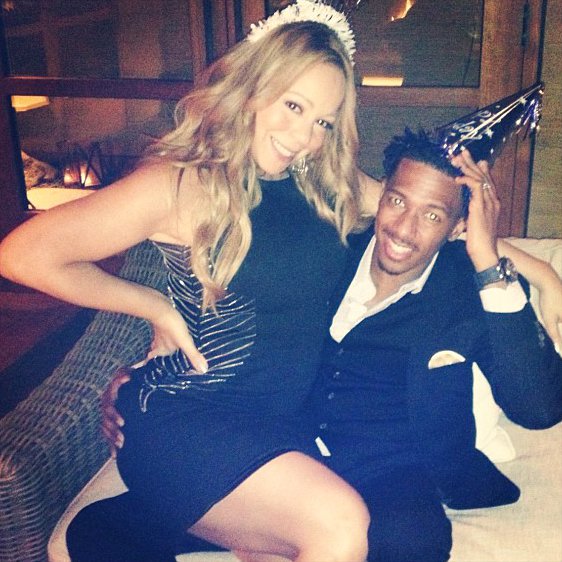 This is why I was so disappointed to discover that the two have actually been living apart for months now. Some suspect the poison to the relationship was Nick's busy work schedule. Mariah has set up her mama bird nest with her babies in New York City, and Nick is often in Los Angeles, shooting for America's Got Talent. Sources claim the long distance has really taken a toll on Mariah, and the brewing tensions from their time apart often rears their ugly heads, during the little time they are able to spend together. It has also been said the couple frequently finds themselves bickering over trust issues, as Mariah is apparently incredibly insecure about no longer being the sexy spring chicken she once was, back in the 90s. Her low self esteem is apparently a big turn off to Nick, and he finds it incredibly frustrating that she is unable to see herself the way he has always seen her, amazing in every way. Nick has found away to avoid Mariah by diving into work and frolicking about the party scene, but Mariah really wants him to settle down and spend more time at home with her and the children. Thus far the split seems to be amicable with no bad blood, and when they have come in contact for the sake of the children, they are incredibly civil. Also both Mariah and Nick both seem to be distraught over the split, both separately expressing the sentiments of their broken hearts to the press.
*insert pics of them looking distressed/ disconnected
Here is my take on the situation:
First of all, I think Nick needs to lighten up on Mariah's struggles with her self-image. While myself and many others would agree that she is still the stunning powerhouse she has always been, I can completely understand having fears getting older, in an industry that thrives on youthful sex appeal. She built a career and cultivated this image based on being a sprightly, pop star princess, not a middle aged mom. However, I think Mariah also needs to give herself more credit. Yes, Mariah's career began as a baby faced, beautiful, spirited young woman, but the real reason she has been able to sustain her career over the decades is all because of her amazingly electric attitude and her incredible talent. Mariah could tour the world wearing a ratty mumu, a cane, and be strapped up in an adult diaper, and still sell out stadiums all over the world, simply because she exudes pure talent. From Madonna, to Britney, to Beyoncé, no one can hit a note like she can, and no matter how old she gets, she will always be a superstar.
However, she is also still human, and self-doubt is a totally organic thing many people deal with all the time. This may be difficult for Nick to fully understand, because Mariah Carey has represented the epitome of every man's fantasy even before Nick Cannon ever even hit puberty, but stress and low self esteem can occur in even the most beloved, talented, vibrant and attractive of individuals. Mariah probably feels like Nick is so wrapped up in own perception of who she is, that he isn't allowing himself to even try to sympathize with her. Likewise, Mariah's emotional personality 180 has clearly caught Nick off guard, which is understandably difficult to process. However the cure to Mariah's blues, is not completely emotionally and physically abandoning her, as she is clearly in need. Hitting the club scene and hiding behind work is only avoiding the issue, fueling both their disconnect and frustrations with each other.
As her husband, Nick should to allow Mariah to lean on him a bit more, so that she may feed from his strength. Though to the world Mariah Carey is this impenetrable icon, she also is a vulnerable woman with a lot to juggle, and as such, she needs to be able to count on her husband to be there for her, when faced with difficult moments of weakness. Perhaps Nick should attempt to take a more sensitive, supportive, and encouraging approach to helping her work through these things. My advice to Nick would be that should Mariah approach him in a moody funk, best thing to do would be to calmly allow roll off his back. Let her vent and do not take it personally. In return, Mariah needs to remind Nick that she greatly appreciates his compassion and understanding, and try not to beat herself up so much.
As for the separation itself, I believe that space can be a really healthy thing in relationships, because it prevents the dangerous trap of emotional codependence. If they were constantly bickering, then perhaps time apart is what needs to happen right now for their relationship to return back to a healthy state. Also, a separation does not automatically mean these two are headed to divorce court. With all the money and resources they have, if they really wanted to get divorced, they would've done it as quickly as they got married. Again, though the circumstances of their marital tensions and typical statistics regarding separated couples may be working against them, I don't believe it is totally hopeless for them to work it out, if it is what they both really want. If the two are willing to make the appropriate compromises, perhaps even partake in some intensive marriage counseling, I think there is still a chance for reconciliation. Also sometimes people in a relationship need some time apart in order to realize how much the relationship really means to them, for as the saying goes, "Absence makes the heart grow fonder". My philosophy is, if couples like Elizabeth Taylor & Richard Burton or NeNe and Greg Leakes can find away to make their relationships work, even AFTER divorce papers have been signed, sealed, and delivered, nothing is totally impossible- but both of them must be willing to make salvaging their relationship their number one priority. Whether they get back together or decide to call it quits, I hope they are able to continue to keep things civil, for the sake of their children. Both Mariah and Nick are worthy of happiness and inner peace, and I hope they are able to find it, no matter what their decision may be.

Source: New York Daily News
What do you think Miss Jessie's readers? Should Nick and Mariah get back together, or are they better off calling it quits and filing for the big D?