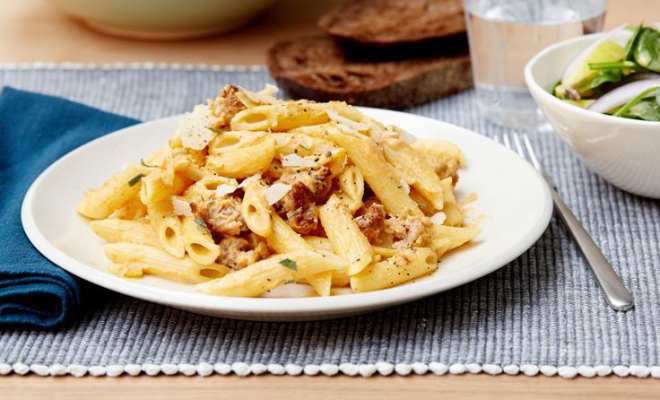 Food Network
Lifestyle
Hair Health Autumnal Dinner Delight: Pasta With Pumpkin & Sausage
|
Rachel Ray knows how to work it in the kitchen! Whenever I'm in the mood for a fabulous, flavorful, and fast dinner, I always consult her recipes. This Pasta with Pumpkin and Sausage dish, accompanied with a light Spinach and Apple Salad and some hearty, warm bread, is the perfect combination of Fall flavors and comfort food delights. I made it this past weekend for a family potluck, and within a half hour everyone was full and happy, not to mention incredibly impressed by my kitchen savvy. This super simple recipe is perfect for weeknights when you are in a rush, and you want to just want to just get the kids fed and to bed, without resorting to unhealthy takeout. Give it a tasty try and tell us what you think!
Pasta With Pumpkin and Sausage:
Ingredients: (Serves 4)
1 tablespoon extra-virgin olive oil, plus 1 tablespoon
1 pound bulk sweet Italian sausage
4 cloves garlic, cracked and chopped
1 medium onion, finely chopped
1 bay leaf, fresh or dried
4 to 6 sprigs sage leaves, cut into chiffonade, about 2 tablespoons
1 cup dry white wine
1 cup chicken stock, canned or paper container
1 cup canned pumpkin
1/2 cup (3 turns around the pan) heavy cream
1/8 teaspoon ground cinnamon
1/2 teaspoon ground nutmeg, ground or freshly grated
Coarse salt and black pepper
1 pound penne rigate, cooked to al dente
Romano or Parmigiano, for grating
Pumpernickel or whole grain bread, as an accompaniment
Directions:
Heat a large, deep nonstick skillet over medium high heat. Add 1 tablespoon of olive oil to the pan and brown the sausage in it. Transfer sausage to paper towel lined plate. Drain fat from skillet and return pan to the stove. Add the remaining tablespoon oil, and then the garlic and onion. Saute 3 to 5 minutes until the onions are tender.
Add bay leaf, sage, and wine to the pan. Reduce wine by half, about 2 minutes. Add stock and pumpkin and stir to combine, stirring sauce until it comes to a bubble. Return sausage to pan, reduce heat, and stir in cream. Season the sauce with the cinnamon and nutmeg, and salt and pepper, to taste. Simmer mixture 5 to 10 minutes to thicken sauce.
Return drained pasta to the pot you cooked it in. Remove the bay leaf from sauce and pour the sausage pumpkin sauce over pasta. Combine sauce and pasta and toss over low heat for 1 minute. Garnish the pasta with lots of shaved cheese and sage leaves.
It is suggested that this meal also be served with pumpernickel or whole grain bread, and/or a simple Spinach Salad with Apple and Red Onion.
For the Spinach Salad with Apple and Red Onion:
Ingredients:
1 pound triple-washed spinach, de-stemmed
1 small Golden Delicious apple, quartered, cored, and sliced
1/4 small red onion, thinly sliced
1/4 cup olive oil
1 1/2 tablespoons (a couple of splashes) apple cider vinegar
1 teaspoon grain mustard
1 tablespoon (a good drizzle) honey
Coarse salt and black pepper
Directions:
Place spinach, apple, and onion in a salad bowl. Place oil, vinegar, mustard and honey in a small plastic container and fit lid on container. Shake dressing to combine, 1 minute. Pour dressing over salad, toss, and season with salt and pepper, to taste.
Enjoy!