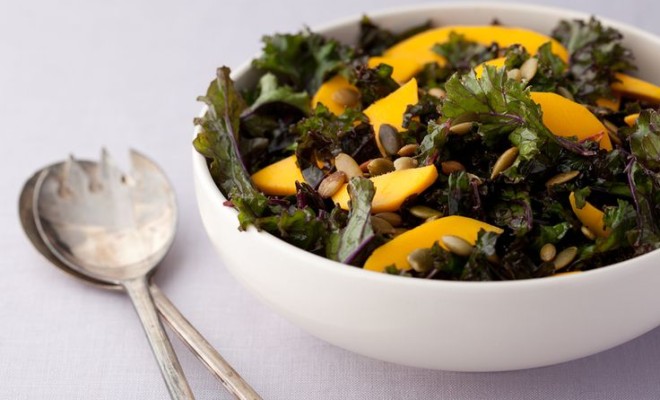 Lifestyle
Hair Health: All Hail Kale! 5 Yummy Recipes Featuring Kale
|
All cooking-savvy curlistas and self-proclaimed foodies have probably noticed the increased presence of the dark, leafy veggie, kale, in both restaurants and at local grocery stores. I can only hope this recent rise in kale's popularity is not just another passing food fad, because this superfood is a dietary miracle.
Kale is a nutrient rich green, jam packed with all the essential vitamins, minerals, and antioxidants, all of which promote overall skin and hair health. In addition to preserving and improving your exterior beauty, consuming kale can also act as a deterrent against serious medical complications. Kale is capable of lowering cholesterol, maintaining healthy blood pressure levels, and can even reduce the risk of developing heart disease and cancer.
I can go on and on about the numerous health benefits which stem from kale's naturally hearty composition, however I know those possessing more picky palates are not as easily persuaded by facts and figures- taste is key. I understand this dark green member of the cabbage family can taste bitter going down, if not prepared with the proper pizzazz. Therefore, I have compiled a collection of some of my favorite kale focused recipes. I hope these delicious recipe suggestions will titillate your taste buds!
1. Curb your savory snack cravings, with Pat and Gina Neely's kale-based snack alternative.
Pat and Gina Neely's Kale Chips
Ingredients
(Serves 2)
1 bunch kale, washed and dried well
1 tablespoon olive oil
Kosher salt and freshly ground black pepper
1 teaspoon brown sugar
CLICK HERE TO GET THE RECIPE.
Recipe courtesy of Patrick and Gina Neely and foodnetwork.com
2. Giada De Laurentiis' sophisticated risotto, kale, and bacon dish is easy to make and very delish!
Giada De Laurentiis' Risotto with Bacon and Kale
Ingredients
(Serves 4)
4 slices bacon, chopped coarsely
1 large onion, chopped
1 teaspoon kosher salt
1/2 teaspoon freshly ground black pepper
1 cup Arborio rice
3 cups low-salt chicken broth, plus 1/4 to 1/2 cup
3 tablespoons fresh lemon juice (about 1 large lemon)
3/4 cup diced cooked chicken
3 medium curly kale leaves, stemmed and chopped into 1-inch pieces (about 3 cups)
1 roasted carrot, chopped
1 roasted parsnip, chopped
1 roasted shallot, chopped
1/2 cup freshly grated Parmesan
CLICK HERE TO GET THE RECIPE.
Recipe courtesy of Giada De Laurentiis and foodnetwork.com
3. While most kale salads can taste bland and blasé, Aarti Sequeira's kale salad recipe is a medley of mouth-watering flavors.
Aarti Sequeira's Massaged Kale Salad
Ingredients
(Serves 4)
1 bunch of kale (preferably black kale), with stalks removed and leaves thinly sliced
1 lemon, juiced
1/4-cup extra-virgin olive oil, plus extra for drizzling
1 mango, diced small (about 1 cup)
2 teaspoons honey
Kosher salt
Freshly ground black pepper
A small handful of toasted pumpkin seeds (about 2 tablespoons)
CLICK HERE TO GET THE RECIPE.
Recipe courtesy of Aarti Sequeira (2010) and foodnetwork.com
4. Lorraine Pascale creatively uses kale in this healthy adaptation of a traditional lasagna dish.
Lorraine Pascale's Butternut Squash and Miso Vegetable Lasagna, with Curly Kale and Rosemary
Ingredients
(Serves 1)
3 rings from the bottom of a butternut squash, with seeds and stem removed
10.5oz of Chestnut Mushrooms
2 Portobello Mushrooms
2 teaspoon of fresh rosemary, finely chopped
1 teaspoon of fresh thyme, finely chopped
2 cloves of garlic, finely chopped
1 handful of curly kale, with stems removed
1 handful of pumpkin seeds
2-3 tablespoons of white miso paste
Oil, (Lorraine uses avocado oil)
Butter or a preferred vegan alternative
A pinch of salt
A pinch of chili flakes
CLICK HERE TO GET THE RECIPE.
Recipe courtesy of Lorraine Pascale and lorrainepascale.com
5. Sunny Anderson's unique take on sautéed kale, will give you new appreciation for this leafy treat.
Sunny Anderson's Kale-llaloo
Ingredients
(Serves 6-8)
1 tablespoon butter
3 slices bacon, roughly chopped
1/2 cup diced Vidalia onion
1 (1 1/2-pound) bunch kale, chopped
1/2 cup coconut milk
1 cup beef broth
Salt and freshly ground black pepper
CLICK HERE TO GET THE RECIPE.
Recipe courtesy of Sunny Anderson (2008) and foodnetwork.com
Bon Appétit Curly Queens!
Sources: 1 | 2 | 3 | 4 | 5 | 6 | 7 | 8 | 9
*All images sourced via Pinterest