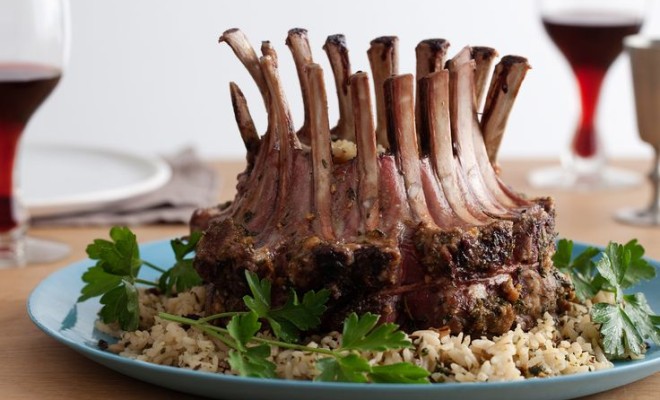 foodnetwork.com
Lifestyle
Hair Health: 8 Spectacular Dishes for an Impressive Spring Spread
|
The spring holiday season is upon us, and this means many families and friends across the globe will gather together this weekend to make new memories, while feasting on an epic meal. Orchestrating the perfect springtime dinner spread requires a delicate balance of dishes that can supply both a punch of flavor and a pop of color. So if you have been appointed to be the host of this year's spring time holiday supper, the pressure is on to really show off your culinary flair.
Now many of you are probably wondering, "Why post a blog about what to serve this weekend, when it is only Tuesday?" That is because unlike some of the traditional dishes served during winter holidays, such as turkey or duck, shortcuts made on spring holiday dishes, such as ham, lamb, or brisket, though simple to make, they take a lot of time to cook. In fact, the longer some of these items cook, the better. So if your plan is to create a meal with varying components, it is important to plan ahead. Allow me to help you take the first steps in planning an amazing Easter/Passover menu with recipe suggestions for some of my favorite springtime dishes. Even if you are not particularly religious, food is always a good excuse to reconnect with those you love. So hop to it! And consider incorporating some of these dishes on your holiday table, this weekend.
Alton Brown's Crown Roast of Lamb

source: foodnetwork.com
Ingredients
(Serves roughly 6 to 8 people- 2 chops per serving)
2 racks lamb, 6 to 8 ribs each, approximately 1 1/2 to 2-pounds each
1 tablespoon olive oil
1 teaspoon kosher salt
1/2 teaspoon freshly ground black pepper
6 cloves garlic, minced
4 teaspoons fresh thyme, chopped
1 1/2 teaspoons ground coriander
1 to 1 1/2 tablespoons sherry vinegar
1/2 to 1 teaspoon Dijon mustard
1/2 to 1 teaspoon chopped fresh rosemary leaves
Directions
Preheat the oven to 375 degrees F.
To french the racks of lamb: Make a cut on the fat side of the ribs, perpendicular to them, about 2 1/2-inches down from the rib ends. Cut through the fat down to the rib bones.
Turn the rack on end, with the bones facing up and push a knife through the flesh between each rib, using the initial cut as a guide for the knife. Cut down the side of each rib to remove the excess fat in between each rib. Using strong kitchen twine, wrap the twine around each rib at the base, nearest the meat and pull to remove all of the remaining fat and sinew from the rib bone.
Bend each rack into a semicircle (meat side in and fat side out) and using kitchen twine tie them together at the base and center, in order to hold the racks together. The rib ends should be pushed outward to create the look of a crown.
Rub the lamb with the olive oil. Combine the salt, pepper, garlic, thyme and coriander and press all over the lamb. Place the roast in a Bundt pan with the center of the pan coming up through the middle of the roast.
Place on the middle rack of the oven and cook for 30 to 35 minutes, until the meat reaches an internal temperature of 130 degrees F. This is approximately 8 to 12 minutes per pound. Remove from the oven, transfer the roast to a rack, cover with aluminum foil and let the meat rest for 20 minutes. While the meat is resting add the sherry vinegar, mustard and rosemary to the juices that accumulated in the Bundt pan while cooking. Stir to combine. Taste and adjust seasoning, as needed. Cut the string away from the roast and place cooked stuffing, rice or barley in the center if desired. Serve the warm sauce with the roast.
For more on this Recipe: Alton Brown's Crown Roast of Lamb
Recipe courtesy of Alton Brown (2008) and foodnetwork.com
Patrick and Gina Neely's Roasted Lamb Chops
Ingredients
(Serves 4)
Two 1-pound racks lamb, frenched
Kosher salt and cracked black pepper
1/3 cup plus 1 tablespoon olive oil, plus more for searing
1 tablespoon chopped fresh rosemary
6 cloves garlic, 4 peeled and smashed, 2 finely chopped
Juice of 1 lemon
3 tablespoons Dijon mustard
2 tablespoons honey
1/3 cup panko breadcrumbs
1/3 cup grated Parmesan
2 tablespoons chopped fresh parsley
1 tablespoon thinly sliced fresh chives
Directions
Sprinkle the lamb with salt and pepper and place in a gallon-size zip-top bag.
Whisk 1/3 cup of the olive oil, the rosemary, smashed garlic, lemon juice and some salt and pepper together in a measuring cup. Pour the marinade into the bag with the lamb. Let sit at room temperature for at least 1 hour and up to 3 hours.
Preheat the oven to 400 degrees F. Line a heavy-duty sheet tray with foil.
Combine the mustard and honey together in a small bowl and set aside. Add the panko, Parmesan, parsley, chives and the remaining 2 cloves garlic to a small bowl and toss together. Drizzle with the remaining tablespoon of oil and mix together.
Heat a large heavy skillet over medium-high heat. Add olive oil and once very hot, sear the lamb, 1 rack at a time, fat-side down first, about 3 minutes per side. Remove from the skillet and place fat-side up on the prepared sheet tray.
Brush both racks with the honey mustard and apply each with the panko and herb mixture. Roast the lamb until an instant-read thermometer reads 140 degrees F, for medium, 20 to 25 minutes. Let rest 15 minutes before carving into chops.
Cook's Note: If marinating the lamb for 3 hours, place in the refrigerator. Let it come back up to room temperature 30 minutes before cooking.
For more on this Recipe: Patrick and Gina Neely's Roasted Lamb Chops
Recipe courtesy of Patrick and Gina Neely and foodnetwork.com
Patrick and Gina Neely's Peach Glazed Ham
Ingredients
(Serves 10 to 12)
3 cups peach nectar
1 (1-inch) piece ginger, smashed
1/2 lemon, juiced
4 cloves garlic, smashed
1/4 cup Dijon mustard
1 cup brown sugar
1 (14-pound) precooked ham
3 whole peaches
Directions
Preheat oven to 350 degrees F.
In a medium saucepan, simmer together peach nectar, ginger, lemon juice, and garlic cloves. Simmer for 20 minutes.
Strain out ginger and garlic.
Prepare ham for glaze. Rub Dijon mustard and then brown sugar on the ham.
Pour glaze on bottom of pan and throw in sliced peaches for additional peach flavor.
Place ham in oven for 1 1/2 hours. Every 10 to 20 minutes glaze ham with the glaze from bottom of pan to keep moist.
For more on this Recipe: Patrick and Gina Neely's Peach Glazed Ham
Recipe courtesy of Patrick and Gina Neely and foodnetwork.com
Melt in Your Mouth Brisket
Ingredients
7-8 pounds of brisket
1 bottle of ketchup
1½ cups of dry red wine
1½ cups water
1.5 tbsp chicken base (I find it milder than beef base)
¼ cup dehydrated onion flakes
6 cloves of garlic, roughly chopped
2 onions, roughly chopped
6 large carrots, cut into large chunks
Salt and pepper to taste
Directions
Combine ketchup, water, dehydrated onion, garlic and chicken base and mix to combine.
Slather this beautiful mixture onto the brisket sneaking it into each nook and cranny.
Let stand in refrigerator for 24 hours.
Preheat oven to 275-degrees and place remaining ingredients over brisket in a tightly sealed roasting pan into the oven.
Cook for 6-8 hours. Typically the rule of thumb is an hour a pound. But the true test is when it pulls apart with two forks..
Place in refrigerator over night to cool.
Remove fat and cut against the grain NOT with the grain.
Place sauce over sliced meat and put into 350- degree oven to warm the meat and sauce.
For more on this Recipe: Melt in Your Mouth Brisket
Recipe courtesy of Girl and the Kitchen and girlandthekitchen.com