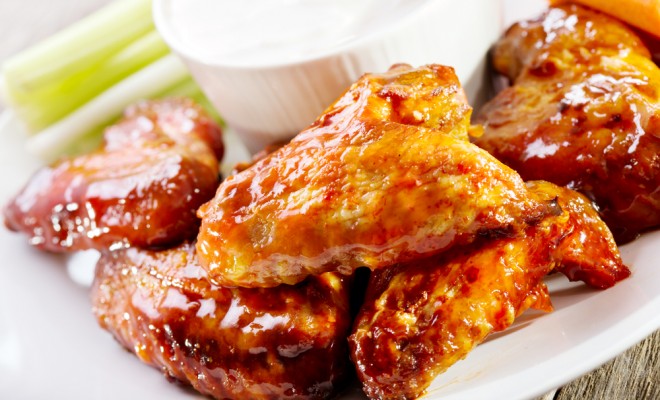 shutterstock
Lifestyle
Game Day Buffet: Sunny Anderson's Football Party Recipes
|
Fall means the start to football season, so prepare yourself for this year's potluck tailgate parties, with some yummy recipes from our favorite queen of the kitchen and curl-friend, Sunny Anderson.
Wings 3 Ways: Honey BBQ, Zesty Salt and Pepper, Spicy Traditional:
You can't deny variety is the spice of life, so impress your game day guests with this this delicious trio of wings.
Serving size: 6-8
Ingredients:
2 quarts vegetable shortening, for frying
24 whole chicken wings (about 6 pounds)
4 eggs
1/4 cup heavy cream
2 tablespoons cayenne pepper
2 tablespoons salt
1 tablespoon freshly ground black pepper
2 cups all-purpose flour
1 cup cornstarch
Honey BBQ Sauce:
2 cups ketchup
1/2 cup dark brown sugar
3 tablespoons creamed honey
2 tablespoons yellow mustard
2 cloves garlic, minced
4 teaspoons turmeric
1/2 teaspoon chili powder
Salt
Spicy Butter Sauce:
1 cup hot sauce (recommended: Frank's Red Hot)
1 cup (2 sticks) butter
1 lemon, juiced
1 small bunch basil
Salt
For the Zest Mix:
1 lemon, zested
1 lime, zested
Directions:
In a large pot, heat vegetable shortening until a deep-fry thermometer reaches 375 degrees F. Line a sheet tray with a wire rack.
Using kitchen shears or a sharp knife, separate the chicken wings into the drummettes and wings, discarding the wing tip joint.
In a large bowl, whisk together eggs, cream, cayenne, 1 tablespoon salt and black pepper. In a paper bag, shake together flour, cornstarch and 1 tablespoon salt. Place chicken in egg mixture and toss well to coat. Place chicken in batches in the bag of flour mixture. Shake well to coat. Set on wire rack to let coating set, 20 minutes.
Meanwhile make the Honey BBQ Sauce and the Spicy Butter Sauce. In a small saucepan, bring the ingredients for the Honey BBQ Sauce to a simmer over medium-high heat. Reduce heat and cook until sauce has reduced by half, about 12 minutes, stirring frequently. In another saucepan, bring the ingredients for the Spicy Butter Sauce to a simmer. Remove from heat and let basil infuse in butter for at least 15 minutes. Remove basil.
When oil is at the right temperature, add chicken, working in batches, and fry until cooked through and crispy, about 13 minutes. Season chicken with salt then immediately toss, taking turns with batches, in the Honey BBQ sauce, or the Spicy Butter Sauce or sprinkle with the lemon and lime zest.
Serve immediately.
For more on this Recipe, Click Here.
Smoked Gouda-Chorizo Jalapeno Poppers:
Get everyone's tastebuds poppin, with this flavorful twist to a traditional old game day favorite.
Serving size: makes 24
Ingredients:
2 links Mexican chorizo, casings removed
1/2 pound smoked gouda, shredded
1/4 cup finely chopped red onions
1 egg
1/2 cup cream cheese
3 tablespoons sour cream
1 tablespoon hot sauce (recommended: Frank's Red Hot)
Salt and freshly ground black pepper
12 large jalapeno peppers, stemmed, seeded and halved
Directions:
Special Equipment: Parchment paper
Preheat oven to 375 degrees F.
Brown chorizo in a skillet over medium-high heat, about 8 to 10 minutes. Drain and place into a large mixing bowl. Add the cheese, red onion, egg, cream cheese, sour cream, hot sauce, and salt and pepper, to taste. Press into jalapeno halves and assemble on a parchment lined baking sheet. Bake until golden and bubbly, about 20 minutes.
For more on this Recipe, Click Here.
Garlic Hasselback Potatoes w/ Herbed Sour Cream:
A much more healthy alternative to the classic potato chip, these little, baked bad boys are irresistibly yummy. They even look like little footballs!
Serving size: 4
Ingredients:
16 ounces red new potatoes
3 to 5 garlic cloves, thinly sliced
4 tablespoons unsalted butter, melted
2 tablespoons olive oil
Kosher salt and freshly ground black pepper
Herbed Sour Cream, recipe follows
Herbed Sour Cream:
1/2 cup sour cream
1/2 teaspoon garlic powder
1 tablespoon finely chopped fresh parsley leaves
Kosher salt and freshly ground black pepper
Directions:
Preheat oven to 400 degrees F.
Using a wooden spoon as a cradle, place each potato in the spoon and make several parallel slits into each potato top making sure not to slice completely through. Place 3 garlic slices between slits at the crown of each potato. Toss in a medium bowl with butter and olive oil. Place on a baking sheet and sprinkle generously with salt and pepper. Bake until tops are crispy and potatoes are cooked through, about 1 hour. Transfer to a platter and top with Herbed Sour Cream.
Herbed Sour Cream:
Combine ingredients in a small bowl. Season, to taste, and refrigerate until use.
For more on this Recipe, Click Here.
And don't forget to check out Sunny Anderson on her Food Network show, Cooking for Real!
Potatoes: 1