Entertainment
Top 10 Best Moments at the 2014 MTV VMAs!
|
It's my favorite time of year, when silver moonmen and celebs come out to play in an evening of live entertainment and awards, the MTV Video Music Awards! For those of you who may have missed the show, or one of the billions of reruns on MTV, allow me to recap my top 10 favorite moments of the evening.
1. Fashion Throwback Red Carpet Looks
Katy Perry and Rapper Riff Raff rebooted Britney Spears and Justin Timberlake's his and hers denim outfits, they wore to the 2001 VMAs.
Amber Rose's silver Laurel DeWitt dress was totally channeling Charmed actress Rose McGowan's 1998 VMA look.
2. Taylor Swift "Shakes It Off" from the Audience
While Taylor Swift's roaring 20s themed performance of her latest single, Shake it Off, without a hitch, I found myself more fascinated by the endearing solo performance she gave, dancing in her seat, during the other artist's performances. While some would qualify this as awkward nerd behavior unsuitable for a typical country/pop star, I found it totally adorable! It doesn't matter how many cameras surround her, she's never afraid to be herself and have a good time. And when it comes to critics and haters, she follows her own advice and shakes em off!
3. Lorde's Candid Acceptance Speech
It's no wonder she and Taylor Swift are BFFs, as Lorde delivered an equally endearing acceptance speech for Best Rock Video, for her song Royals. *insert video :
While other artists would feel totally humiliated and hang their heads after revealing their rookie stripes, Lorde apologizes right away for the mishap, scurries back down to her seat next to Taylor, and proceeds to awkwardly dance the night away with her bestie, totally unphased. Just goes to show you don't have to be a perfectly poised princess to dominate the pop charts!
4. Nicki's Smooth Catch, as the VMAs open with a BANG BANG!
Ariana Grande, Jessie J and Nicki Minaj opened the show by performing their latest collaboration, Bang Bang. While all three girls were totally on point the entire performance, Nicki Minaj did manage to avert a serious wardrobe malfunction, holding it all together like the pro she is… literally.
Surprised….

But keeping it classy, cool…

While a couple of the artists did arrive to the VMAs in throwback outfits to award shows past (see number one on our list), we are thoroughly impressed that Nicki caught herself just in time, avoided bringing back the Janet Jackson Superbowl nip slip look.
5. Spiders and Snakes and Twerking, OH MY!
America's beloved bootilicious divas, Iggy Azelea and Nicki Minaj, opted for in your face, powerhouse, creepy crawler themes for their performances. Iggy Azelea's live performance of her single Black Widow, featuring Rita Ora, was set in a glittering, giant, spider web. Iggy and Rita wowed the crowd in their enchanting duet, backed by a full band and crew of ballerinas.
Though the use of real snakes were cut, after one of the real snake bit a dancer during rehearsals, Nicki Minaj still brought down the house, while performing her newest single, Anaconda, as part of a musical medley with Ariana Grande and Jessie J. Dressed like a scaly snake herself on a jungle themed stage, she tore the stage up with Young MC.
Source: RapRadar
Apparently twerking has gone from a shocking taboo to a VMA tradition (Thank you Miley Cyrus).

Source: MTV
6. Baby's First Red Carpet Event
Even Baby Blue Ivy's made an appearance at this year's VMAs, as she was seen cuddling up on Papa Jay-Z's knee. Even she could resist the electric energy of her Mommy's epic finale performance, as she clapped and bobbed her head along with the music. Bey and Jay should be very proud, as I've never seen a toddler with so much swag!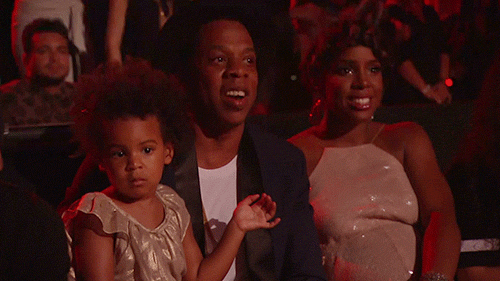 7. Miley Cyrus' Moving Act of Kindness
And by "moving", I do not mean she did another booty poppin' a sequel to her teddy bear twerktastic performance, from the VMAs last year. After winning the Video of the Year award for her song Wrecking Ball, she allowed a homeless youth named Jesse to accept the award on her behalf, and share a couple of words about his personal struggles with the star studded audience. This sobering moment was an emotional reminder about tragic reality of homeless youth in the United States, as 1.6 million homeless kids and runaways still roam the streets of Los Angeles alone. While a harsh truth to swallow, Miley's efforts will hopefully encourage positive change, and remind the privileged youth who have been blessed enough to succeed in the entertainment industry to count their many blessings.
8. Common Honor's the Life of Michael Brown and Ferguson, Missouri
Rapper and activist, Common, also grounded the Moon men enthusiasts, by leading the clamoring crowd in a powerful moment of silence, for Michael Brown and the town of Ferguson, Missouri. It is easy to forget the struggle and strife of the outside world, while in the celebratory cushy comforts of the VMAs, however once the night is over, the struggle continues. Common's words were a reminder to us all that we all need to work together as a solid, peaceable unit, in order to make the positive change we all truly want- then we will really have a reason to celebrate.
9. Queen Bey Blows Up the Stage
Beyonce wrapped the show with an epic, intense, non stop, 16 minute set of song samples from her entire visual album, and it was INCREDIBLE! She sang everything from the already chart topping singles such as Drunk in Love, Flawless, Partition, and Pretty Hurts, to lesser known songs from the album, such as Haunted and Rocket. Though she was accompanied by a handful of dancers, the degree of special effects and show spectacle was fairly minimum compared to the other performances that evening, making it all the more clear that her raw talent is the only bright light needed to light up the venue. She basically stepped on stage and said, "Let me show you what I do best, in case you already didn't know why they call me Queen Bey. Welcome to my world!"
She killed it. Enough said.
10. Kanye Gets His 2009 VMA Wish: Beyoncé is honored Michael Jackson Vanguard Award
While she may have lost out to Taylor Swift for the Best Female Video award back in 2009, Beyoncé was provided with a much higher honor this year, receiving Michael Jackson Vanguard Award, the same the lifetime achievement prize that reunited NSYNC, at the 2013 VMAs. Queen Bey has proven she is more than worthy of the award, especially after that nonstop 16 minute song and dance extravaganza, however it was apparent that she felt her greatest reward was not the silver moonmen, but rather the people who were honoring her with it. As Jay-Z held Blue Ivy in his arms, beaming with pride as he read about his wife's achievements, Beyoncé couldn't help but cry tears of happiness and gratitude. Now the negative press about troubles in paradise and rumors of an impending split can be put to bed, because it is clear that there is nothing but genuine, sincere love in the Carter-Knowles household.
If you want to check out the whole show from start to finish, click here.