Entertainment
Scary Movie Series: 13 High School Horror Flicks
|
Miss Jessie's continues to celebrate the Halloween season, by suggesting the creepiest scary movies to watch, all month long. This week's marathon is a High School horror fest! Studying for tests, applying to colleges, complying to cliques, waking up with giant pimples, getting grounded for missing curfew, and the pressure to find perfect prom dates, is hard enough to handle; throw in being stalked by supernatural monsters or psychotic serial killers, and you have everyone's worst nightmare. So grab your favorite candy, pop some popcorn, curl up with your bestie, and enjoy this fright fest of fun!
1. Scream:
Starring Neve Campbell, Courteney Cox, David Arquette, Rose McGowan, and a brief, ill fated cameo by Drew Barrymore, this is Wes Craven's classic horror film opus. This quintessential teen horror movie is half traditional slasher flick, half satirical commentary on traditional scary movie structure and "rules". Make a night of it by screening the first, along with the following sequels, back to back- whether this is your first or hundredth screening of this movie, prepare to scream.
2. Friday the 13th:
Camp Crystal Lake was never the same after the mysterious disappearance of Jason Voorhees, and what happens when a group of young camp counselors attempt to reopen the cursed, abandoned summer camp? Well, murder of course.
Also, don't forget to check out the many sequels that follow this horror film classic.
3. The Faculty:
Starring Josh Hartnett, Elijah Wood, Jordana Brewster, Usher Raymond, Salma Hayek, and Jon Stewart, this science fiction horror flick is a contemporary adaptation of the classic film, Invasion of the Body Snatchers. When the staff of Herrington High School begins exhibiting strange behavior, the student body begins to suspect that adults in the community have been possessed by alien life forms.
4. Urban Legend:
Ever hear that story about the deranged man with a hook, that preys on teens getting hot and heavy at lovers lane? Or the one about the kid that died after eating Pop Rocks, and washing it down with a can of soda? This film is about a sadistic killer that terrorizes a group of teens; picking each on off with meticulously thought out murderous plots, based on classic Urban Legends.
5. I Know What You Did Last Summer:
Right before their high school graduation, four BFFs are bonded by a scandalous secret. They make a pact to take it to the grave, that is, until a mysterious psycho with a hook makes it his mission to put them in a grave first! The first installment stars 90s hotties and heartthrobs Jennifer Love Hewitt, Ryan Phillippe, Sarah Michelle Gellar, and Freddie Prinze Jr., and the cast of the sequel, I Still Know What You Did Last Summer, also includes RnB sweetheart Brandy.
I Know What You Did Last Summer

I Still Know What You Did Last Summer

6. Prom Night:
Senior prom is supposed to be the best night of your life, especially for those lucky enough to be crowned Prom Queen….that is, unless she and her best friends are being stalked by a psycho killer.
The 1980 version, starring Jamie Lee Curtis and Leslie Neilson

The 2008 version, starring Brittany Snow and Jonathan Schaech

7. The Craft:
A classic from the 1990s, this is about a group of teenaged misfits who find solace in the world of witch craft, joining forces in a real witches coven- but every clique has it's issues, even the magical ones.
8. Jawbreaker:
Rebecca Geyhayheart, Rose McGowan, and Pam Grier star in this satirical thriller, as the queen bees of the Reagan High social scene. When an innocent prank on their bestie goes horribly awry, a devious plot unfolds in their attempts to cover the crime. Think Mean Girls, with murder.
9. Final Destination: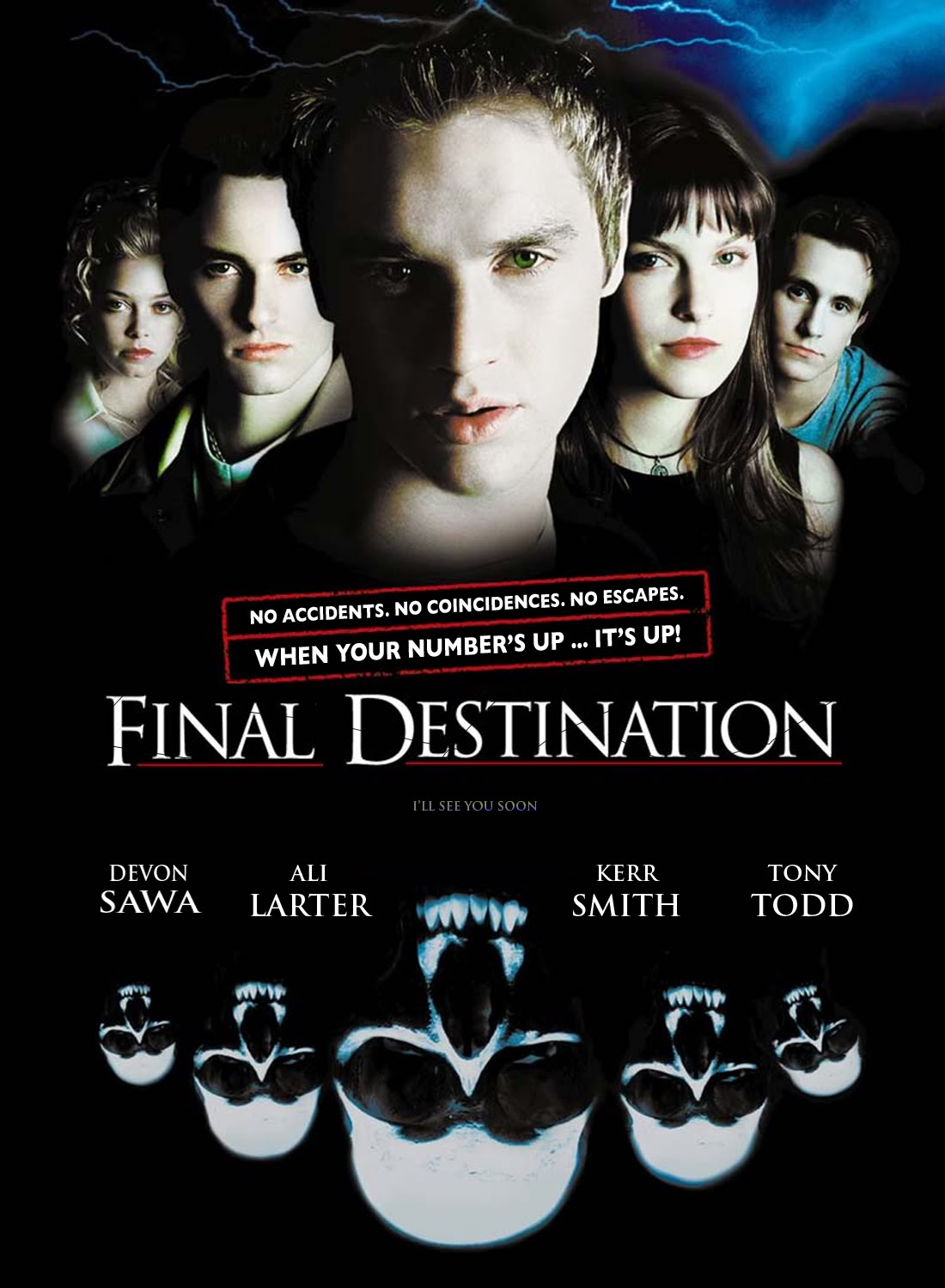 What happens when one teenager manages to barely escape the clutches of the Grimm Reaper? Death returns with a vengeance to mercilessly take down all his friends, in this film and a series of sequels.
10. Funny Games:
In this suspenseful, psychological thriller, two teenage boys torture an innocent, unsuspecting upper class family, with a series of disturbing and twisted "games".
11. Cherry Falls:
Starring Britney Murphy and Jay Mohr, this slasher flick takes place in the sleepy town of Cherry Falls, where a psychotic killer goes on a virgin slaughtering rampage.
12. Valentine:
After being publically humiliated at a junior high dance, Jeremy Melton hunts down the women responsible for rejecting his innocent proposals to dance, and taking his humiliation one step further by falsely accusing him of sexual assault and destroying his reputation. Ten years later, Jeremy returns to town, blood thirsty for revenge. After undergoing an ugly duck to beautiful swan transformation, he changes his name and infiltrates the still close-knit circle of girls. After earning their trust and even dating one of the girls, he proceeds to torment them while disguised in a haunting cupid mask. This psychological slasher stars David Boreanaz, Denise Richards, and Katherine Heigl.
13. Halloween:
The slasher flick that set the standard for all teen horror films to come, this is the classic story of escaped mental patient, Mike Myers', murderous hunt for bookish babysitters and virgins. The scariest thing about this film is that while other movies provide their killers with a specific motive within their backstories, Mike is inexplicably insane, committing his first murderous offenses as a child. Like many other horror films, this movie spawned a long series of sequels that later attempt to justify this killer's obsession with murder, and his specific fascination with the beautiful Laurie Strode (played by Jamie Lee Curtis). However, the first installment is definitely the most chilling, as the explanation of why he does what he does is incredibly vague. A mysterious, sadistic, sociopath, Mike Myers is the embodiment of evil and the king of all slasher movie villains.
Warning- you may want to sleep with the lights on after a screening of Halloween, or any of these terrifying movies!
*All photos were found on Pinterest