wired.com
Entertainment
Who Should Be Jon Stewart's Successor on the Daily Show?
|
Current events are a classic jumping off point for shows with a topical humor objective, and have become a staple of quality sketch comedy shows. Since Craig Killborn's departure from the Daily Show in 1998, Jon Stewart has since revolutionized the genre of news focused topical satire. The show's original structure had been previously criticized for being a cold, pretentious critique on superficial pop culture topics, but the addition of Jon Stewart transformed this program into a humorous, yet poignant and well researched program, discussing current events on the national news. As writer, producer, and head news anchor, Jon Stewart's creative investment in The Daily Show has since made the show a cultural phenomenon, and the half hour segment has since set the standard for the news focused satire.
It is for this reason, the world released a resounding, "NOO!!!! BUT WHY?!!!," when Jon Stewart announced his retirement from The Daily Show at the end of the year, inevitably leaving big shoes to fill. Though he rightfully earned his place in history as an icon of satirical news that a replacement anchor may be able to emulate, but never completely duplicate, his departure has left a vacancy for a fresh voice and perspective. This isn't like when Johnny Carson left The Tonight Show or even when Carson Daly outgrew TRL, because I know many people who claim to trust the Daily Show over most national news networks, as a primary source for information. The Daily Show has become known for taking the most complex issues within global politics, and making them more digestible for the masses. Jon's ability to deliver an honest breakdown of real life, controversial subjects, while maintaining comedic tone, requires a rare skill set consisting of unbiased intelligence and excellent sense of timing. It is also significant this person possess an unmatched sense of magnetic charisma, capable of effectively articulating each punch line with confidence. Not anyone with a striking smile and a swivel chair is right for this job.
The rumor mill has been a buzz with gossip surrounding the highly coveted position of lead correspondent for The Daily Show. Who is to succeed Jon Stewart? While there has been much speculation around many potential comedians, here are the three most common people I've consistently heard mentioned:
Kristin Schaal:

*source: cinemablend.com
If you don't recognize her face from her Emmy nominated role in Flight of the Concords, then you definitely recognize her voice from Bob's Burgers, where she plays the cunning and spunky youngest daughter of Bob, Louise Belcher.
Kristin Schaal's Daily Show Report on Sexy Halloween Costumes

*source: thedailyshow.cc.com
*source: pinterest.com

*source: imgur.com
Amy Poehler:

Photographed by Williams and Hirakawa
*source: tumblr.com
Now that her Emmy Award winning sitcom, Parks and Recreation, is coming to an end after seven flawlessly funny seasons, this vacancy would be a great opportunity for the former Weekend Update correspondent and SNL veteran.
SNL's Weekend Update: Amy Poehler Raps in Honor of Governor Sarah Palin
(Skip to 0:50 to see the beginning of the rap)

*source: youtube.com
*source: buzzfeed.com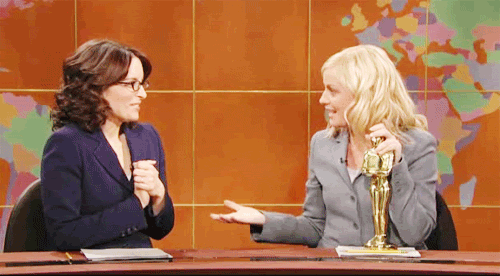 *source: photobucket.com
Jessica Williams:

*source: wired.com
*source: thedailyshow.cc.com
Jessica is currently a well respected correspondent for the Daily Show. I've even used her work as a reference for a past blog about the unfair enforcement of hairstyling regulations for African American women in the US military, called Operation Black Hair.
*source: thedailyshow.cc.com
CLICK HERE to read the article.
Like Amy Poehler, Jessica was also a student of UCB, but unlike Poehler and Schaal, Williams has yet to receive her well deserved upgrade from endearing, adorable side-kick, to leading lady. This could be her chance to become a break out, comedic star. While Poehler and Schaal are serious contenders that each have much to bring to the table, even Hot Tub Time Machine 2 predicts this position is William's destiny.
Writers of Hot Tub Time Machine Predicts Jessica Williams as the future host of The Daily Show
*source: uproxx.com
*source: autostraddle.com
I'm sure everyone at Comedy Central is desperately trying to keep this selection process heavily under wraps, and we wont know for sure who will replace Jon Stewart until next season. In the meantime, who do you think would be right to take over the role of lead anchor on The Daily Show?
SOURCES: 1 | 2 | 3 | 4 | 5 | 6 | 7 | 8 | 9 | 10 | 11 | 12
All images sourced via Pinterest