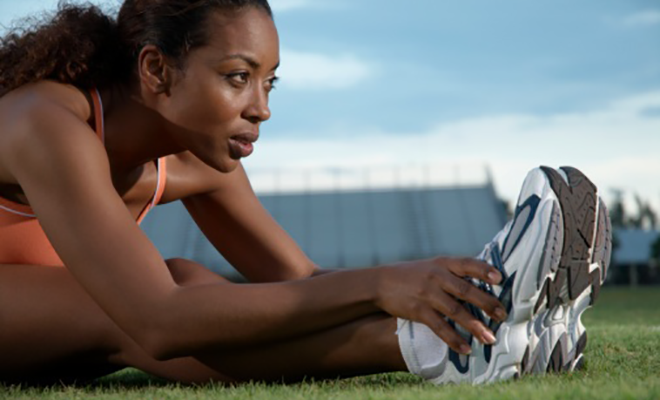 tumblr
Lifestyle
Hairography Playlist: 24 Workout Tracks for Spring 2015
|
I'm so excited that spring is here and summer is right around the corner, because it means I can finally retire my fleece lined tights, bulky knit sweaters, oversized winter coats, and my collection of my heavily insulated pants and slacks, for the next few months. While doing a little spring cleaning over the weekend, I was able to rediscover and accurately asses my collection of flirty spring/summer dresses and skirts, bathing suits, and strappy shoes, and I must say, I was quite happy to discover that most of my clothing items were still in good condition and still on point with this year's fashion trends. I decided to try on a pair of cute, high waisted shorts I had purchased last year at an "end of summer sale", that I had not gotten much wear out of last season. I remembered them feeling a bit snug last year, so I was relieved when I felt them slide up and over my hips with ease, and button without any stress or strain.
After indulging on goodies throughout the holidays, I've been working really hard on trying to maintain a balanced diet, with smaller portions, in hopes of improving my overall health, in hopes of dropping a couple pounds before summer rolled around. I know eating well is only half the battle, and while I have attempted to squeeze in exercise here and there, a hectic work schedule has made sitting on my butt in front of the television a more appealing way to spend my free time. I just sort of hoped, on a wing and a prayer, that if I compensated my lack of movement with eating more green things instead, it would all balance out some how. Once I slipped the button of my shorts through it's hole, without even having to suck in, I thought my half-baked attempt at healthy living had actually paid off. Just as I was about to pat myself on my slightly more trim back, I looked at myself in the mirror. Though there was no muffin top, I looked…well…. I guess the kindest and least self-debasing adjective would be, "soft". I looked soft and fluffy, like a fresh baked biscuit. I had definitely dropped some poundage, but there was still some sag and flab in areas that could use a little tightening and toning. With only a few more weeks left before Memorial Day, I'm going to have to get really disciplined in order to reach my goal of looking amazing in those shorts and being bathing suit ready. There is simply no way around it, in addition to continuing to eat well, I MUST hit the gym and exercise.
Now, I'll be the first one to tell you that I hate the gym- it's hot, it smells like feet, and being surrounded by fit happy people grunting and running yet getting nowhere, drives me crazy. However, I had just spent the last six months eating like a vegan rodent, and I could not let all that work go to waste, due to blatant sloth. I have to find some sort of silver lining that makes the gym experience more enjoyable. One of my motivational incentives I have found that always makes going to the gym less painful, has been creating a fresh playlist for the season. Music always has a way of inspiring me to get up and get moving, so check out my Spring Workout playlist right here. Whether you are lifting weights, rolling on the stationary bike, or hitting the treadmill, these beats are sure to get your blood pumping and your heart rate going! So check these tracks out and add them to your own workout playlist today.
1. G.D.F.R. , Flo Rida Featuring Sage and the Gemini & Lookas

source: youtube.com
2. Want to Want Me, Jason Derulo

source: youtube.com
3. Break Free, Ariana Grande ft. Zedd

source: youtube.com
4. Somebody, Natalie La Rose

source: youtube.com
5. Cockiness (Love It), Rihanna

source: youtube.com
6. Work, Iggy Azalea

source: youtube.com
7. Movin Bass, Rick Ross

source: youtube.com
8. Steady, The London Souls

source: youtube.com
9. Feelin Myself, Nicki Minaj ft. Beyoncé

source: youtube.com
10. Tuesday, Makonnen ft. Drake

source: youtube.com
11. Guap, Big Sean

source: youtube.com
12. Trouble, Iggy Azelea ft. Jennifer Hudson

source: youtube.com
13. Lose Control, Missy Elliot

source: youtube.com
14. Go Hard or Go Home, Wiz Khalifa and Iggy Azelea

source: youtube.com
15. Shut Up and Dance, Walk the Moon

source: youtube.com
16. Bo$$, Fifth Harmony

source: youtube.com
17. Lips are Movin, Meghan Trainor

source: youtube.com
18. Heartbeat, Kelly Clarkson

source: youtube.com
19. Worth It, Fifth Harmony ft. Ink Kid

source: youtube.com
20. Mark Ronson, Uptown Funk ft. Bruno Mars

source: youtube.com
21. Hey Mama, David Guetta ft. Nicki Minaj and Afrojack

source: youtube.com
22. The Greatest, Raleigh Ritchie

source: youtube.com
23. Ride Out, Kid Ink, Tyga, Wale, YG, Rich Homie Quan

source: youtube.com
The fun factor of your workout routine is completely based on the music you are listening to. I know it, and so does the trainer featured in this viral video of a Hip Hop spin class! Check out this clip right here!
Listening to Wipe Me Down, by Lil Boosie ft. Foxx & Webbie

source: youtube.com
For the full playlist:

Source: YouTube