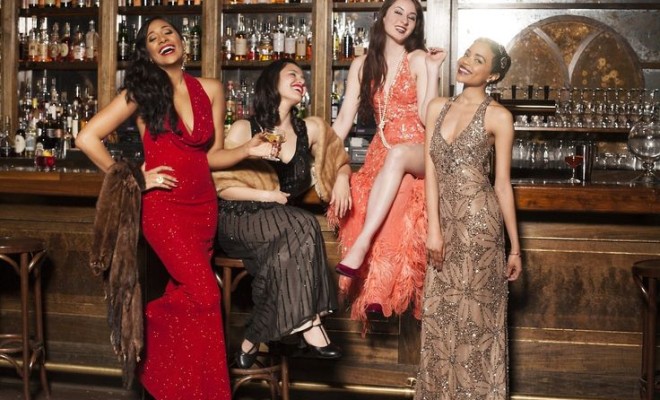 technologytell.com
Lifestyle
Hairography Mix, Throwback Thursday Edition: 17 Covers by Postmodern Jukebox
|
Happy Throwback Thursday Curly Queens! Today I've made a Hairography mix of my favorite covers performed by the musical group and youtube sensation, Postmodern Jukebox.

source: www.krank.ie
Postmodern Jukebox is the brainchild of multitalented musician and composer Scott Bradlee. For the past couple of years, his youtube channel has taken the internet by storm with it's creative covers of Top 40 Pop and RnB hits, stylized based on popular music trends of the past. These adaptations of contemporary tunes with a vintage flair, allow us to hear these songs from a whole new perspective, highlighting the emotional undertones and lyrical depths that are easily missed in the highly auto-tuned, computer generated tempos of the contemporary originals. I've posted a few of my favorite Postmodern Jukebox covers below, along with the original songs. Compare, contrast, and don't forget to tell us about your favorites in the comments!
1. Gangsta's Paradise Vintage 1920's Al Capone Style Coolio Cover, performed by Robyn Adele Anderson

source: youtube.com, ScottBradleeLovesYa
Original version of Gangsta's Paradise, by Coolio

source: youtube.com, ScottBradleeLovesYa
2. Creep Vintage Soul Radiohead Cover performed by Karen Marie

source: youtube.com, ScottBradleeLovesYa
Original version of Creep by Radiohead

source: youtube.com
3. Drunk in Love Vintage Big Band/ Swing Beyoncé Cover, performed by Cristina Gatti
insert video

source: youtube.com, ScottBradleeLovesYa
Original version of Drunk In Love by Beyoncé ft. Jay Z
insert video:

source: youtube.com
4.Fancy Vintage 1920s Flapper Style of Iggy Azalea song, performed by Ashley Stroud

source: youtube.com, ScottBradleeLovesYa
Original version of Fancy by Iggy Azalea ft. Charli XCX

source: youtube.com
5. No Diggity Vintage Jessica Rabbit Style of the Blackstreet Cover, performed by Ariana Savalas

source: youtube.com, ScottBradleeLovesYa
Original version of No Diggity by Blackstreet ft. Dr Dre and Queen Pen

source: youtube.com
6. Wiggle Vintage 1920s Broadway Style Cover of Jason Derulo ft. Snoop Dogg

source: youtube.com, ScottBradleeLovesYa
Original version of Wiggle by Jason Derulo ft. Snoop Dogg

source: youtube.com
7. Womanizer Vintage 40s Torch Song Style of Britney Spears Cover ft. Cristina Gatti

source: youtube.com, ScottBradleeLovesYa
Original version of Womanizer by Britney Spears

source: youtube.com
8. Anadconda Vintage Bluegrass Hoedown Style Nicki Minaj Cover

source: youtube.com, ScottBradleeLovesYa
Original version of Anaconda by Nicki Minaj

source: youtube.com
9. All About That (Upright) Bass Jazz Style Cover of Meghan Trainor, performed by Kate Davis

source: youtube.com, ScottBradleeLovesYa
Original version of All About That Bass by Meghan Trainor

source: youtube.com
10. Timber Vintage 1950's Doo Wop Cover of Pittbull ft. Ke$ha

source: youtube.com, ScottBradleeLovesYa
Original version of Timber by Pittbull ft. Ke$ha

source: youtube.com
11. Dark Horse Gothic R&B/James Bond Style of Katy Perry Cover, Performed by Ashley Stroud

source: youtube.com, ScottBradleeLovesYa
Original version of Dark Horse by Katy Perry ft. Juicy J

source: youtube.com
12. Shake It Off Vintage Motown Style of Taylor Swift Cover, performed by Von Smith

source: youtube.com, ScottBradleeLovesYa
Original version of Shake It Off by Taylor Swift

source: youtube.com
13. Maps Vintage 1970s Soul of Maroon 5 Cover, performed by Morgan James

source: youtube.com, ScottBradleeLovesYa
Original version of Maps by Maroon 5

source: youtube.com
14. Titanium Vintage 1940s Jazz Crooner Style Cover of David Guetta ft. Sia, performed by Von Smith

source: youtube.com, ScottBradleeLovesYa
Original version of Titanium by David Guetta ft. Sia

source: youtube.com
15. Blank Space Vintage Cabaret Style Cover of Taylor Swift, performed by Ariana Savalas

source: youtube.com, ScottBradleeLovesYa
Original version of Blank Space by Taylor Swift

source: youtube.com
16. Sweater Weather- Vintage French Pop/ Edith Piaf Style, The Neighbourhood Cover, performed by Cristina Gatti

source: youtube.com, ScottBradleeLovesYa
Original version of Sweater Weather by The Neighbourhood

source: youtube.com
17. Burn Vintage 1960s Girl Group Style Ellie Goulding Cover, performed by Flame-O-Phone

source: youtube.com, ScottBradleeLovesYa
Original version of Burn by Ellie Goulding

source: youtube.com

source: iviveh2o.com