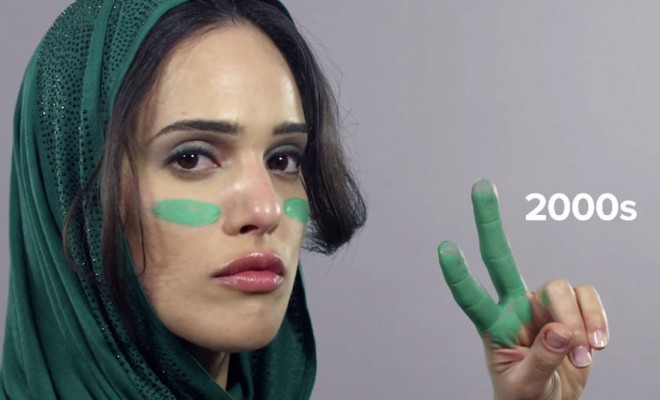 Beauty
The Evolution of Glam, Part Trois: 100 Years of Beauty in Iran & 100 Years of East London Fashion in One Hundred Seconds
|
If you are a regular to our Miss Jessie's Beauty Talk Blog, then I'm sure you are already familiar with our past posts, featuring the episodes from the 100 Years of Beauty in One Minute series, that have been highly trending on the internet since their release. In case you missed it, watch the videos right here!
100 Years of Beauty – USA (Nina)

source: youtube.com, Cut Video
100 Years of Beauty – USA (Marshay)

source: youtube.com, Cut Video

source: tumblr.com
To check out Miss Jessie's coverage of both videos, you can click here and here.
Cut Video has continued adding to this fascinating collection of short films, with a new segment featuring the evolution of beauty trends in Iran.

source:pinterest.com
100 Years of Beauty – Iran (Sabrina)

source: youtube.com, Cut Video

source: rack.2.mshcdn.com
As I've said before, I absolutely love the concept of these short films. I believe they are genius video concepts because they allow people to visualize the progression of glamour trends efficiently, creating the kind of educational repercussions that are two fold. The specially stylized condensed format of these films illustrates informative, poignant lessons in history and cultural anthropology, while simultaneously appeasing the need for entertainment and instant gratification that characterizes our current digital age.
In searching for other videos with a similar format, I stumbled upon another short, which documented the evolution of style and fashion in East London, in one hundred seconds. Watch as this couple from East London dances through the decades.
100 Years of Style- East London

source: youtube.com, Westfield Stratford City
Apparently this clip actually pre-dated the ones created by Cut Video, and was originally conceived as a means to announce the opening of a new shopping center in the UK, back in 2011. I suspect the debut of the Cut series is what prompted the resurgence of the 100 Years of Style- East London video back into the circulation of trending internet content, and I couldn't be happier about it. The United Kingdom has been known for setting the tone and raising the bar in standards for style and fashion all over the world, for centuries. The impeccable, innovative taste of English designers such as Alexander McQueen, Thomas Burberry, Vivienne Westwood, and Stella McCartney, helped to revolutionize the fashion industry, transforming this act of garment design into a legitimate art form. I know the intent behind this clip was merely for the sake of advertising, but I can only hope that the rising popularity of this clip on the internet again will inspire the creators to make a sequel to this one, featuring the transition of fashion trends through the decades within other geographical regions.
So what did you think of these videos, curly queens? What country would you like to see covered next, for either the evolution of beauty or fashion? Tell us in the comments!

source: fashion.telegraph.co.uk

source: diyphotography.net
Sources: 1 | 2 | 3 | 4 | 5 | 6 | 7 | 8 | 9 | 10 | 11 | 12
All images sourced via pinterest